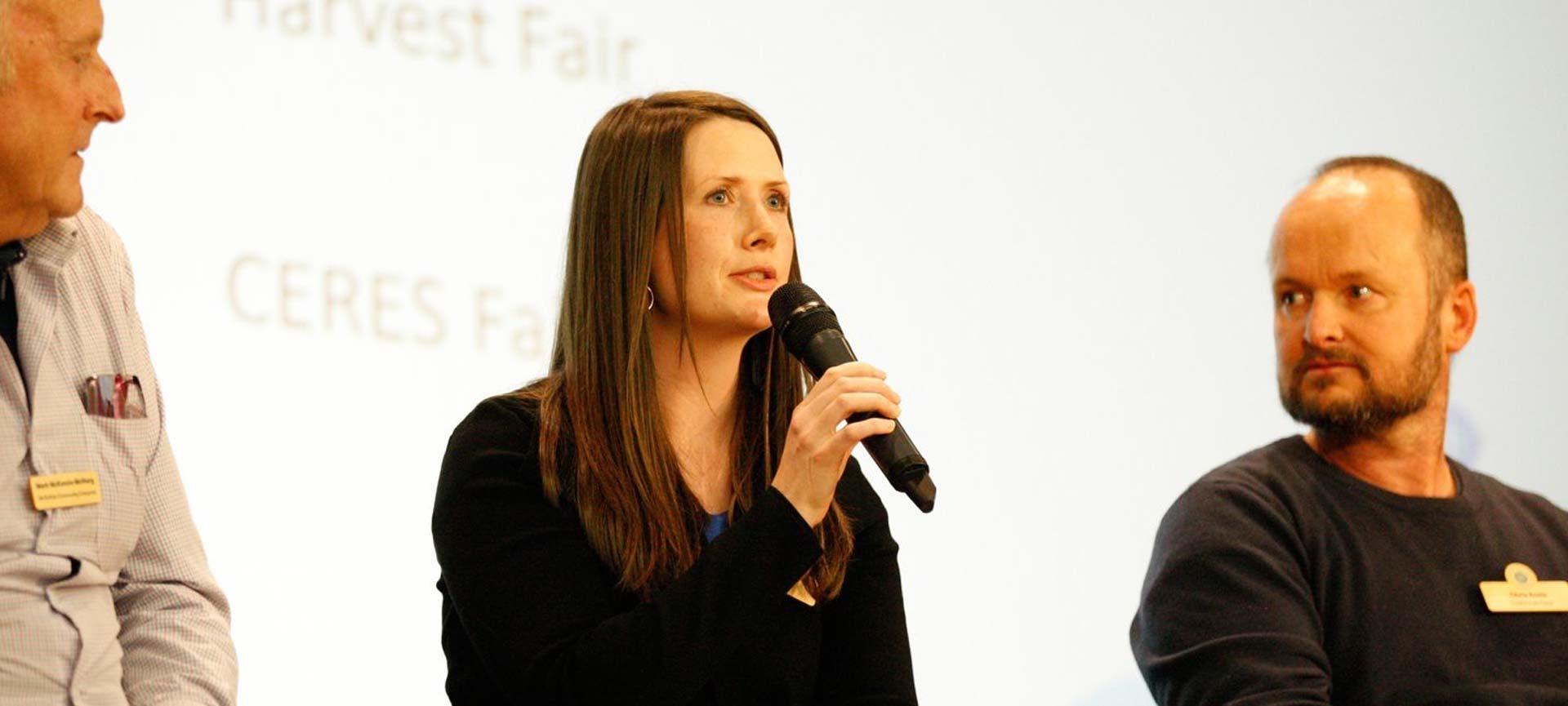 Women's leadership and the role of tech for good in achieving an equal future
Guest post by Amy Orange
In this guest post for International Women's Day 2021, Infoxchange Group Director and award-winning social entrepreneur Amy Orange shines a light on the role of women's leadership in the tech for good space.
It's been one year since COVID-19 changed our world as we knew it. The experience of a global pandemic where we are all affected, regardless of our country's wealth and status, has offered up a unique opportunity to witness, assess and compare the various kinds of leadership across the world.
When applying a gender lens, it's difficult for anyone to argue against the facts and stats that demonstrate that countries with female leaders have weathered the COVID-19 storm particularly well –  think New Zealand, Taiwan, Iceland, Taiwan, Finland and Norway.
These female leaders mobilised their country through proactive and decisive action underpinned by empathy, compassion, common sense, foresight and recognition that the economy is worthless if their people aren't healthy enough to function within it.
They applied these approaches in a powerful combination with solid data, evidence and tracking technology to inform their decisions. They prioritised education and used language and channels that were inclusive, easy to understand and accessible, even for children. The principles underpinning their decisions are reflected in the operational rollout of their COVID management plans and frontline services, enabling a culture of practice that shares these values and principles.
These are the same feminist principles and practices that generally underpin social enterprises, regardless of whether they are led by women or men.
Social enterprises (like Infoxchange!) are organisations that exist to tackle social problems, improve communities, provide people with access to employment and training, or help the environment as their primary objective. Social enterprises derive a substantial portion of their revenue from trading a product and/or service and re-invest the majority of profits into their social purpose.
It's exciting to see a growing number of tech for good social enterprises emerging in Australia. Social entrepreneurs (and intrapreneurs) know that impact at scale is necessary for deep and wide systems change. And they know that technology is one of the greatest enablers of social innovation and impact through its ability to reach those who may not be easy to reach on many levels – including physically, financially and culturally.
But the gender gap in tech still exists on multiple levels. Women are still significantly underrepresented as both drivers and users of tech:
The gender investment gap: female founders are still only receiving less than 4% of venture capital globally despite overwhelming data that shows investment in women will bring a higher return. This gap has unfortunately widened further during COVID-19.
The gender participation gap: women are not advancing through the ranks of tech companies into key decision-making and leadership roles.
The digital literacy gender gap: women are underrepresented in STEM and ICT education that would increase their skills and opportunities to engage, use and lead tech-based solutions.
Underpinning all these tech-based gender gaps are gender biases, toxic workplace cultures, glass ceilings and financial, social, cultural and economic barriers. All of these issues make it much harder for women to fully participate in the tech world. They must be addressed in order to create systemic change to advance women as leaders in technology.
Here are just some of the ground-breaking female-founded Australian tech for good social enterprises working to address the gender gap:
Women working at the intersection of tech and social enterprise are powerful agents of change.
We're seeing more and more tech-based social enterprises emerge to mobilise communities and advance opportunities for women in tech. And while COVID-19 has irrefutably amplified the gender lens on women's leadership and its potential for the "new normal", there's still much to be done to break down the digital divides and systems which perpetuate inequality.
Read our Board profile on Amy Orange
Read what else we have to say about women in tech
Based in Adelaide, South Australia, Amy Orange is on the board of directors of Infoxchange and Connecting Up, and is Co-Founder of Collab4Good, Social Procurement Lead at Social Traders, and Principal Consultant of Fourth Sector Solutions.