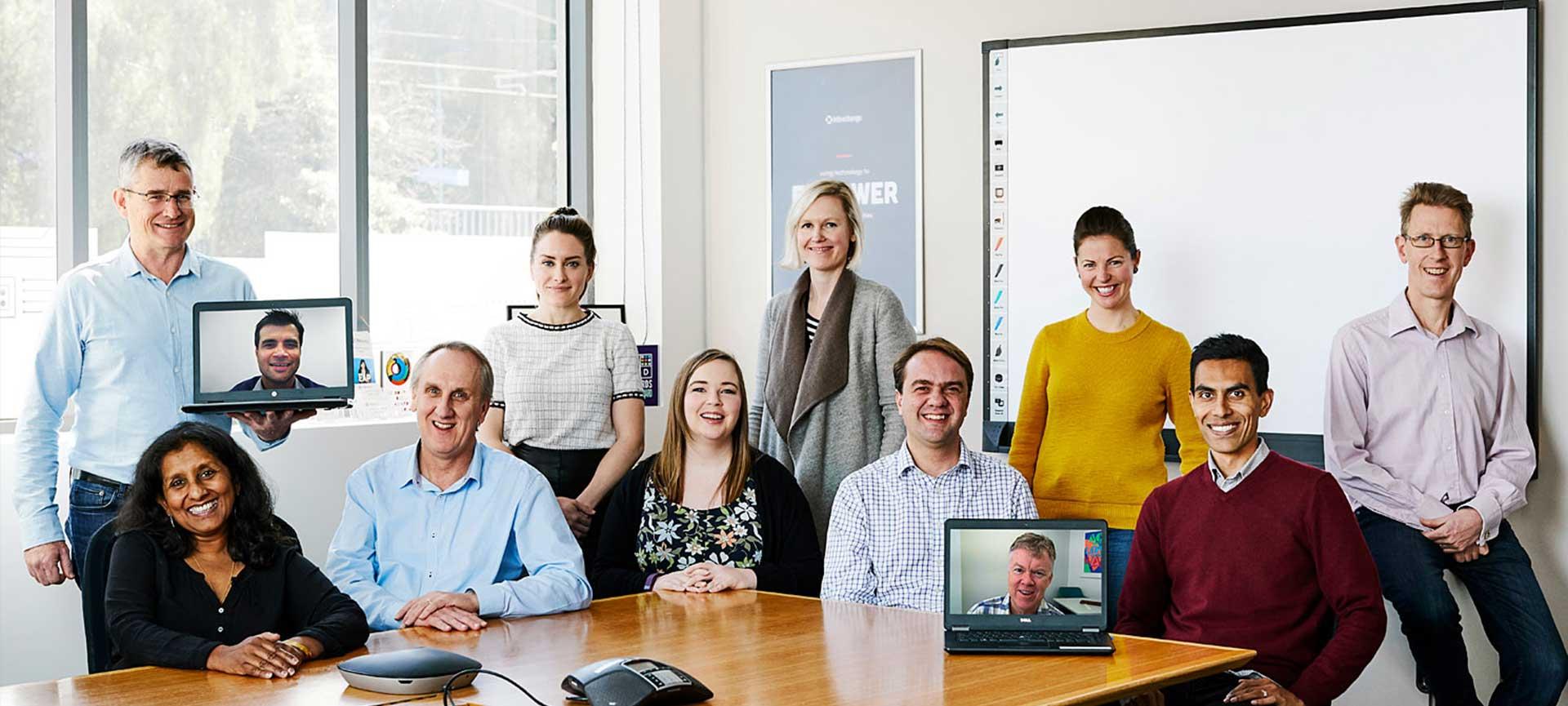 Our leadership team
David Spriggs, Group CEO of Infoxchange and Connecting Up

David is passionate about creating a more digitally inclusive society and the role technology can play in improving the efficiency and effectiveness of the not-for-profit sector. David is also Chair of the Australian Digital Inclusion Alliance and a Board member of Specialisterne Australia. He holds a Bachelor of Information Technology from the University of Queensland, a Certificate in Theology from the University of Melbourne and is a Graduate of the Harvard Business School Executive Education Program and the Australian Institute of Company Directors. Read more about David.
Brian McLaughlin, Chief Operating Officer

Brian has over 20 years' experience in IT and seven years in community sector-related roles. His role is to ensure that Infoxchange's product and services are strongly represented to the not-for-profit sector. Brian's objectives include driving customer engagement and product development in areas such as support services and data Insights, while continuing to develop our core products such as case management and referral solutions for the community sector.
Wayne Gorst, Head of Corporate Services

Wayne has over 20 years' experience in the community sector, including working in homelessness, Aboriginal and Torres Strait Islander health and offender support. As a certified practicing accountant, Wayne has supported many organisations to deliver effective services and is committed to enhancing the lives of those who are the most marginalised and disadvantaged in our community.
Ben Shaw, Head of Community Impact

Ben joined Infoxchange as Product Manager for Ask Izzy, and now heads the Community Impact team to ensure that the voice of lived and community experience is central to our products and services. Ben has worked in digital, project, and service delivery across the government, education and not-for-profit sectors, with a focus on ensuring that technology works to support human flourishing and healthy communities.
Jess Perrin, Head of Strategic Partnerships and Communications

Jess leads our social impact programs to ensure no-one is left behind in today's digital world. Her career has focused on building partnerships to support and scale innovative social justice projects. She brings over 10 years of international experience, most recently from the Thomson Reuters Foundation in London where she was the Head of Global Programs.
Kate Hickman, Head of People and Culture

Kate brings extensive experience in leading change management across many organisations and industries and many years as a consultant before stepping into human resources in more recent years. Kate has led programs that promote a positive workplace, mental health and wellbeing, employee engagement, corporate social responsibility, and a culture of belonging. Kate's passion for making a difference in society is instilled in who she is and what she strives for.
Pankaj Chhalotre, Head of Connecting Up

Pankaj has over 12 years of experience working in various positions in the not-for-profit sector. As part of the executive team at Connecting Up, he has been involved in setting up strategies, organisational structure, major projects and change management initiatives. Pankaj is passionate about working in partnership with cooperate, government and not-for-profit sector to leverage the digital work to positively impact their communities.
Gerard Palk, Queensland Manager
Gerard has been working in human services in Queensland for over 20 years. Before joining Infoxchange in 2006 he was involved in the implementation of client management systems for the youth sector, prison support services, family support programs, child protection and disability services. Since joining Infoxchange he has led the development of our client and case management system.
Jess Kitch, People and Culture Manager (currently on parental leave)

Jess's role involves supporting the management of the employee lifecycle for all staff at Infoxchange. She has worked in human resources for 15 years across a range of sectors including technology, not-for-profit and health. She is excited by opportunities to work with progressive organisations like Infoxchange to help people be better at what they do.
Pallavi Susarla, People and Culture Business Partner (currently on parental leave)

Pallavi has over 13 years of experience in human resources across the health, technology, public service and not-for-profit sectors. She is driven by a desire to bring out the best organisations and their people and is particularly passionate about community service, mental health and wellbeing, and working with values-based organisations to drive contemporary HR strategies.
Alana Pascolo, People and Culture Business Manager

Alana joined Infoxchange in 2014. Her role involves supporting the management of the employee lifecycle for all staff. Before Infoxchange, Alana worked in HR for Infosys and the Victorian Government. She is passionate about giving back to the community, having previously sat on corporate social responsibility committees in previous organisations.
Rachel Misitano, Manager—Brand and Communications

Rachel is a strategic marcomms leader with extensive experience managing evidence-based, brand, marketing and communications for the not-for-profit, technology, education and arts sectors. Rachel and her team lead the strategy and management of Infoxchange's marketing and communications, focusing on raising brand awareness, driving positive engagement, and generating quality leads. She is passionate about using her skills and expertise to drive social impact and equity, diversity and inclusion in science, technology, engineering and maths (STEM).
Cathy Culliver, Marketing and Communications Team Lead

Cathy joined Infoxchange in 2015, after previously working in publishing and the disability sector. Cathy and her team oversee Infoxchange's public and online presence including the website, branding, social media, marketing and the Annual Report. She is passionate about using technology to drive social impact, especially through the use of digital media and innovative storytelling.
Marcus Harvey, IT Services & Consulting Manager

Joining Infoxchange from Nous Group, Marcus is an experienced facilitator and not-for-profit technology expert. He and his team are passionate about helping organisations use technology effectively to work smarter rather than harder and achieve measurable outcomes with the clients and communities they work with.
Amodha Ratnayeke, Online Applications Manager

Amodha joined Infoxchange in 1998 as a database updater, before eventually moving on to managing our online applications. She oversees the implementation of our various service coordination applications, while also liaising with clients and managing relationships.