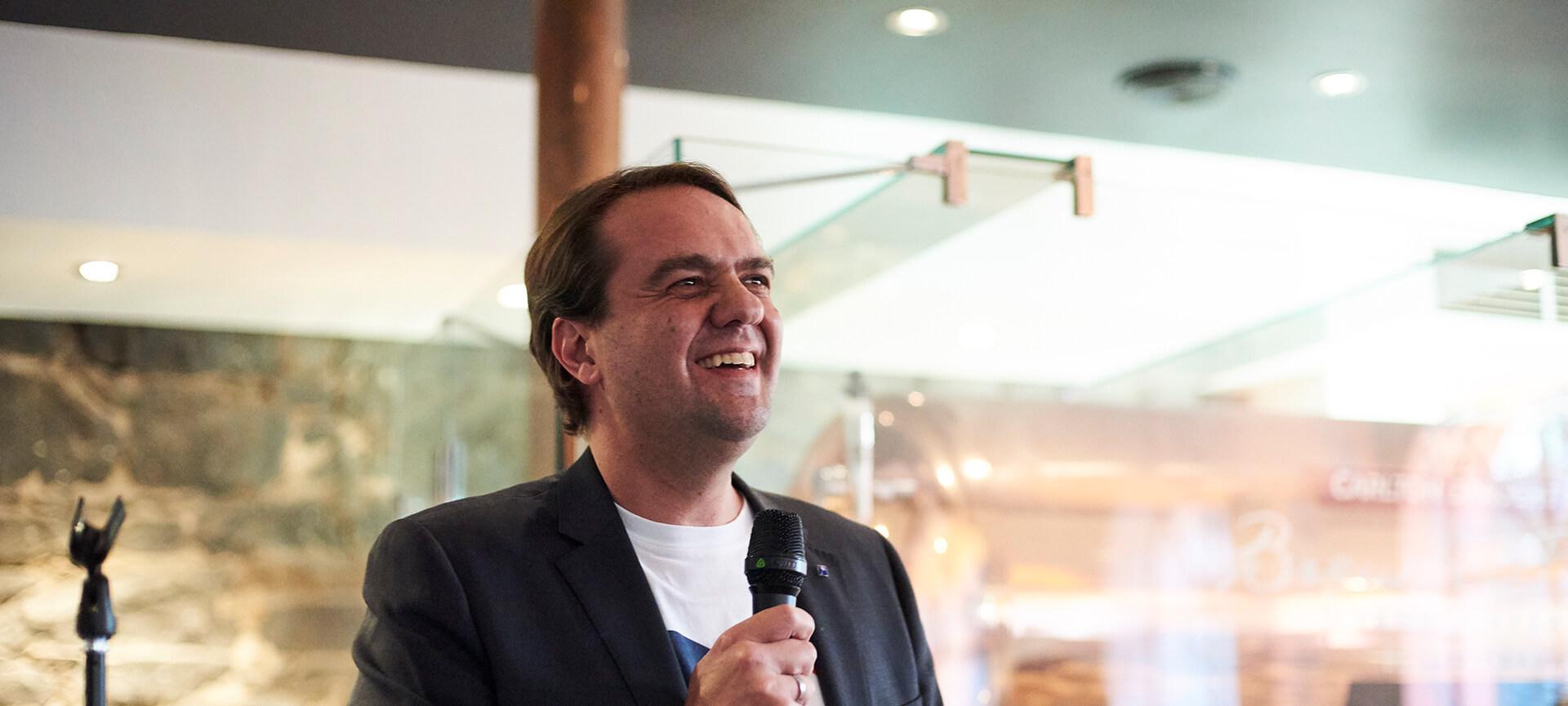 Celebrating our staff – David Spriggs
This year Infoxchange marked its 30th birthday and our recent joining of forces with Connecting Up. To celebrate, we all came together for our very first all staff conference with the theme "Changing lives through the power of tech" – you can read more about it here.
One of our favourite parts of the conference was hearing personal stories from staff members across the organisation as they shared their career journeys, passions and significant life moments.
We believe Infoxchange's strength lies in the diversity and experience that our staff bring to work each day. So in this blog series, we're excited to share some of these stories with you.
To kick things off, we'll be hearing from our CEO, David Spriggs, who shared with staff a few surprising, life-defining moments.
---
If you've ever met Infoxchange's CEO David Spriggs, one of the first things you notice about him is his friendly and warm manner and razor sharp mind. At Infoxchange's recent staff conference celebrating our 30 year anniversary, David shared some surprising things with staff like:
He was born in Scotland and migrated to Australia at the age of two
He grew up in the leafy suburb of Eltham, in Mebourne's north, where his childhood was spent playing with Lego, exploring the surrounding bush areas and riding bikes on dirt roads
David's love of technology began in the early 80s when his Dad brought home an IBM personal computer – a life-defining moment that set him on the path to a career in technology.
What may not surprise you is that David grew up in a household where social justice was a regular part of family life. His parents didn't necessarily define their sense of community and equality with that term, but David's parents welcomed people from all walks of life.
"My mother taught me the value of community and reaching out to people, particularly reaching out to those more vulnerable in our society," David says.
He says it's a value that he has always held throughout his own career and family life.
David is also a self-described computer nerd, and says he copped his fair share of teasing and bullying from his peers during his teenage years. He didn't let that deter him.
"I had my friends and I knew what I wanted to do from a very early age. I went on to do an information technology degree," he says.
David completed his studies and worked in the tech industry in a range of roles including support, development, project management and partner management across Australia and the Asia-Pacific.
"Everybody in the industry should spend time working on a support desk. That's how you really get a feel for what happens when you make bad decisions as a developer and what implications that might have for people using your product," David says.
Another life-changing moment for David came when he was working in the commercial side of the tech industry and he met Infoxchange's founder, Andrew Mahar. David was geared up for a regular partner meeting but instead was amazed at the staff at Infoxchange and the passion they showed working towards technology for social justice.
"I didn't necessarily understand everything that everybody was doing, but there was a real energy, a real buzz in the place," says David.
"Through talking with Andrew, it really made me realize that I had been so fortunate in the access to technology and the employment opportunities that I had had. And that there was so many people that weren't getting those opportunities and were missing out."
It took David another 10 years to join Infoxchange as a staff member, and he says it was the best decision he could have made.
"My wife said she had never seen me so happy to get up and go to work in the morning and genuinely that's still true."
It's not often that you hear the CEO of an organisation talk candidly about taking on the responsibility of a leadership role, but true to David's personality he shared a moment with staff that had a profound impact on him.
"Six years ago I was really fortunate to be offered the role as CEO Infoxchange. That came with a whole lot of fear and doubt, wondering is that something I can really do? Am I worthy of this role? I see it as a role of service and incredible responsibility. I was really anxious at that point.
"Our Chair at the time brought me into the room full of staff to announce that appointment. The warmth in the room and the applause across the room was just an incredible feeling.
"The support that I've had from all of the staff across the organisation is something that I'm really grateful for."
After all these years, David says that what really drives him is hearing from people and service providers about how we've made a difference in their lives.
"It's those kinds of moments which give me the energy to keep on going," David says.
"I'm obviously really proud of what we've achieved."
Want to get involved with Infoxchange? Read about what we offer staff and find out how much coffee we drank in the last year!