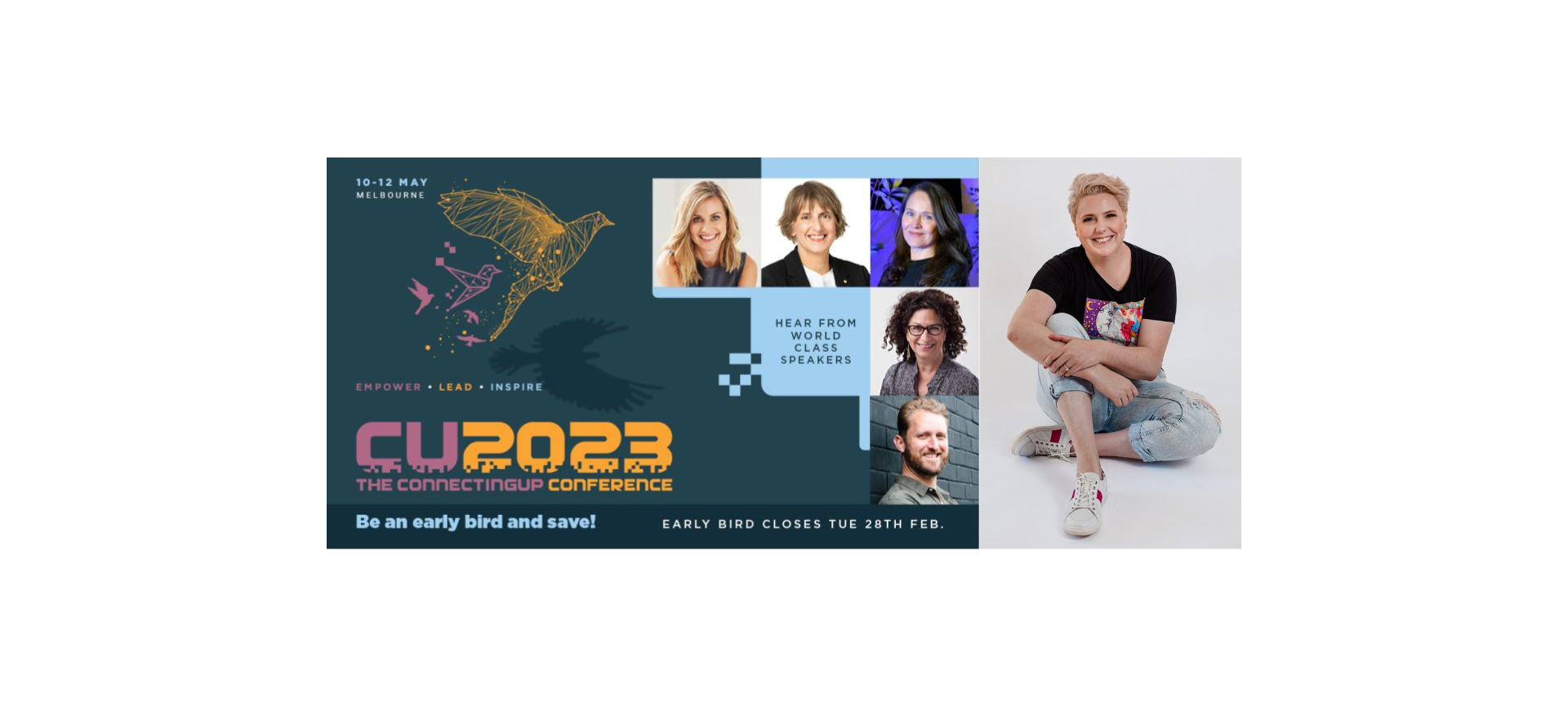 The Making of Masters: Meet Marketing & Social Media guru Alecia Hancock
Marketing and social media guru and business strategist Alecia Hancock is looking forward to sharing her skills with delegates at the 2023 Connecting Up Conference.
With over 15 years' experience as a journalist and magazine editor, 11 years teaching digital marketing skills to charities and social enterprises, and positions on boards and committees at Girl Guides Australia and Salvation Army, Alecia is well known in the NFP sector.
Alecia's fascinating career includes running a record label (regularly traveling to France for buying trips); editing a bodybuilding magazine where she interviewed Sylvester Stallone and spent time with Mr Olympia contest winners as well as travelling the world and meeting celebrities as a writer.
In 2010 she started a company supporting charities and non-profits to tell their stories in today's digital world. She helped 17,000 causes during that time and is now a consultant and trainer working with some of the most amazing causes around the world. 
It leaves you thinking 'what hasn't she done in the creative industry?'
The secret ingredient that Alecia attributes her success to is a surprising one - mistakes.
"Making mistakes just means you are getting closer to achieving the goal you are aiming for," she says. "If you want to succeed - make more mistakes."
Forge Your Own Path
Alecia credits 'Two Weeks Notice' author Amy Porterfield as her "greatest inspiration".
"So many people inspire me, but I always look to women around the world who are unapologetically themselves and who are succeeding in their career while helping others," she says.
"I was lucky enough to meet her in the USA in 2019. She was every bit as amazing as I hoped.
Alecia won her first writing award in Grade One, so has always had a passion – and skill – for putting pen to paper. She also had interest in becoming a teacher and so considers herself lucky that she now does both, saying it's amazing to create great content and teach others how to do it better.
Making Marketing & Social Media Masters
Alecia will be presenting a Marketing & Social Media Masterclass at this year's Connecting Up Conference, saying it is one of her favourite speaking engagements.
The Connecting Up Conference helps hundreds of people from Australia's not-for-profit and technology sectors to enhance their skills and impact.
The 2023 line-up is full of incredible women, including Alecia.
"I have been lucky enough to speak at this conference in Australia and New Zealand a few times now and honestly, it's always the best experience," she says.
"There is nothing quite like getting hundreds of people focused on helping others together in one place to learn."
Alecia says she hopes through her Masterclass that NFPs will understand some current online marketing trends and develop ways to maximise reach and help customers.
"I want to really condense what is working most effectively for not-for-profits right now in 2023 and show everyone how to drive the best marketing results for the time and resources."
Alecia is known for her inspiring talks, useful resources and story-focused training that makes a real difference.
Don't miss out on the opportunity to see her in action in May.
The Incredible Women of Connecting Up 2023
Alecia will join a raft of incredible women at the Connecting Up Conference on May 10-12 including ACNC Commissioner Sue Woodward AM, Australian eSafety Commissioner Julie Inman Grant, internationally renowned Design Anthropologist Sarah Pink, Pro Bono Australia Founder Karen Mahlam AM, and Code Like A Girl CEO Ally Watson OAM (among many others).
You can view the rest of the speaker line-up here or book tickets to attend the Conference here.