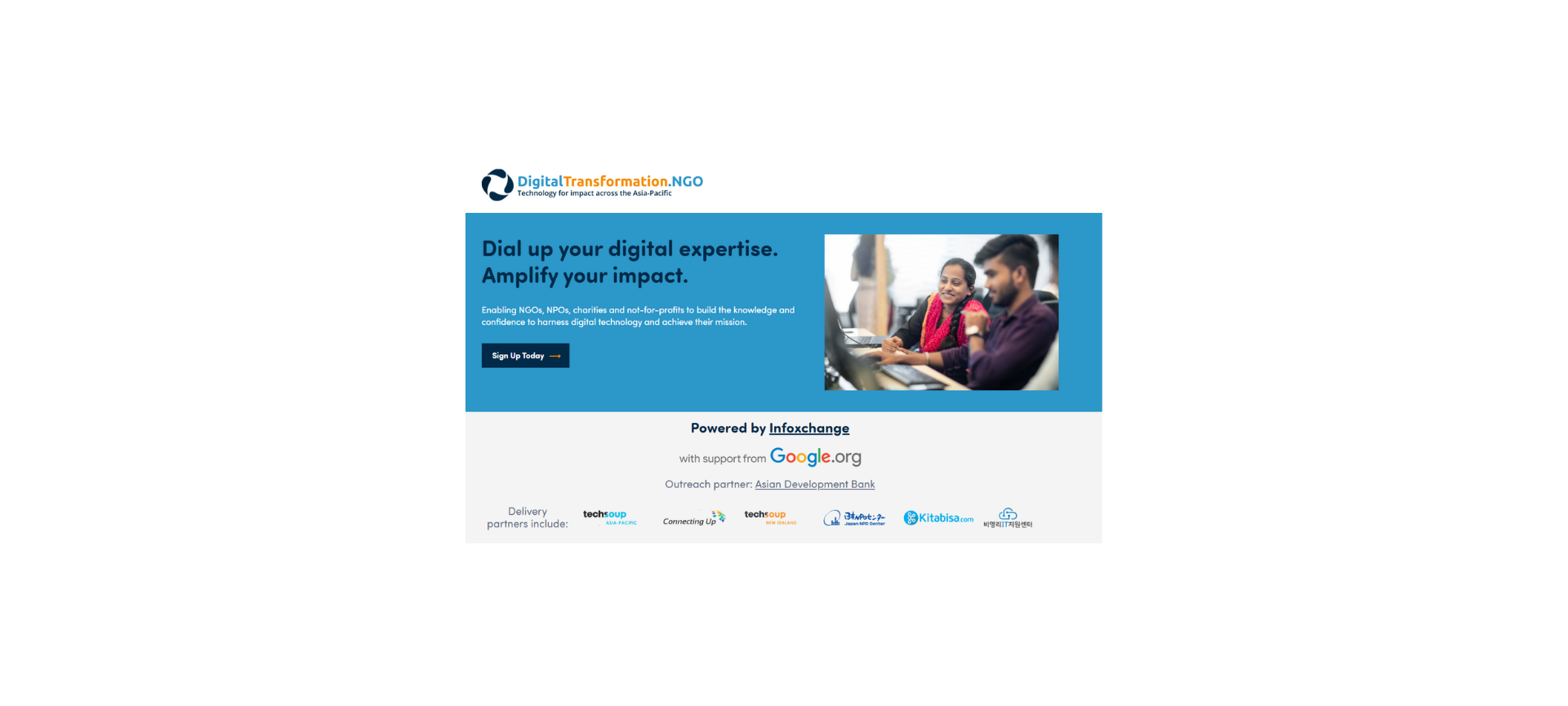 Infoxchange Launches Digital Capabilities Program in Asia-Pacific
Infoxchange, a not-for-profit social enterprise, will today launch the 'Asia-Pacific NGO DigitalTransformation Project' with support from Google.org, Google's philanthropic arm, and AsianDevelopment Bank (ADB).
The project is designed to increase the digital capability and skills of NGOs in the Asia-Pacific region and create a more resilient not-for-profit sector.
It will feature a digital transformation program in which 50 non-profits from across the region will receive one-on-one counsel to explore use cases of technology to help them improve efficiency and scale their impact
The project also includes a webinar-based training program, in which staff from any NGO in the region can register to be trained on cybersecurity, collaboration and a range of productivity tools, making the most of their data, digital marketing, and emerging technologies such as artificial intelligence.
Infoxchange's 2023 APAC NGO Digital Capability Report identified that 1 in 6 NGOs experienced a cybersecurity incident in the last 12 months. Additionally, 60% of respondents do not have a system in place to measure their impact, and only half effectively utilise NGO collaboration and online productivity tools.
"The Asia-Pacific NGO Digital Transformation Project aims to create lasting change by helping NGOs to become more resilient and effective through the use of technology," Infoxchange CEO David Spriggs says.
"We will work with 50 organisations from across the region to help them transform their technology use and drive real impact in their communities."
The project is aimed at NGOs who have the desire and commitment to embrace technology to better serve their communities. The NGOs hail from selected locations including Australia, India, Indonesia, Japan, Malaysia, New Zealand, Philippines, Singapore, South Korea, Thailand, and Vietnam.
"We've seen time and time again the potential for technology to turbocharge the work of NGOs, allowing them to reach more people and scale their work substantially," said Annie Lewin, Head of Google.org Asia Pacific. "We're thrilled to support this program which will empower more of our region's NGOS with technology."
The Asia-Pacific NGO Digital Transformation Project is now accepting registrations for the training webinar program from NGOs across the region. The project is a unique opportunity for organisations to transform their technology use and achieve sustained impact in their communities.
Download Infoxchange's 2023 APAC NGO Digital Capability Report.
For more information on the wider APAC NGO Digital Transformation Project and how to apply, visit the web page.