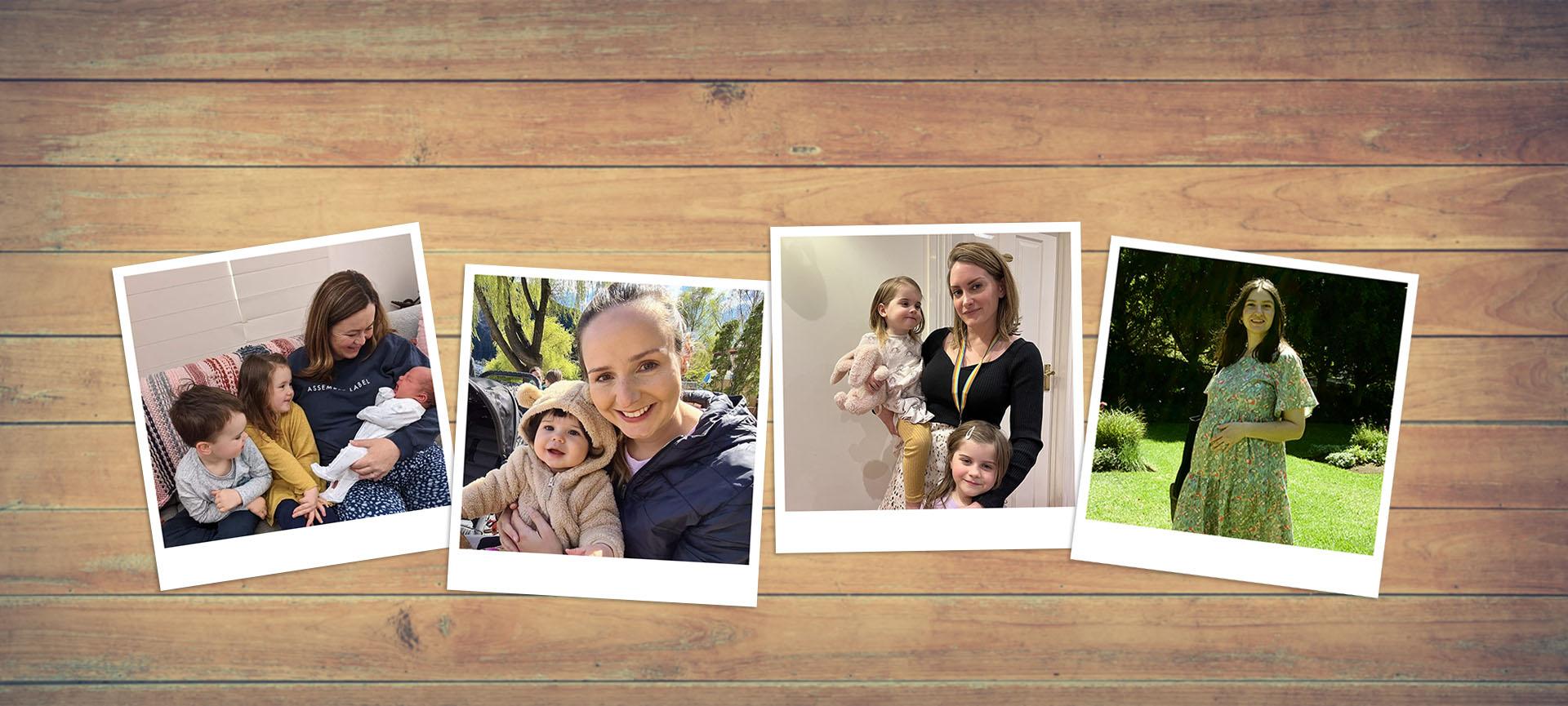 Global Day of Parents: Balancing Work & Parenting
Beccy's Journey: Balancing Work and Family at Infoxchange
Beccy reflects on the policies and flexibility options at Infoxchange which assisted her in returning to work after maternity leave.
Before taking maternity leave, Beccy's career took centre stage at Infoxchange. With thoughtful planning, her role was backfilled, allowing her to step away for much-needed rest and preparation.
During her 12-month leave, Beccy experienced a mix of emotions. Due to the all-consuming nature of motherhood and lack of sleep, she worried about her ability to communicate and think as clearly before returning to the job.
In transitioning back to work, Infoxchange offered "keeping in touch" days, allowing Beccy to stay connected with work and participate in workshops during her leave. These opportunities reassured her confidence in her skills and ability to return and adapt. Beccy felt supported attending these sessions with the help of her partner, who stayed close by to care for their son.
During this time, Beccy felt assisted by  Infoxchange's flexible work policy, enabling her to find a suitable balance between work and family responsibilities.
Beccy's journey shows the support Infoxchange provides in accommodating flexible working arrangements after parental leave.
Alana's Journey: Balancing Parenthood and Career at Infoxchange:
Before taking parental leave, Alana had a busy career as the sole member of the People & Culture team at Infoxchange. Entrusting her role to someone else was a significant step for her, and leaving felt both daunting and exciting as she embarked on the adventure of parenthood.
During her approximate 10-month leave, Alana stayed connected with the organisation through "keeping in touch" days, gradually getting up to speed with what was happening. Her colleague also kept her informed about any major changes, ensuring she still felt connected to the workplace.
When she returned, Infoxchange offered Alana the option to work part-time, which helped ease her transition back into the workforce.
Infoxchange had implemented an enhanced paid parental leave policy, providing Alana with her full salary for 18 weeks. This support was instrumental in helping her plan for the period of unpaid leave.
Alana's journey shows Infoxchange's commitment to supporting employees as they navigate the transition of becoming a parent while maintaining their professional growth.
Hayley's Journey: Embracing Parenthood and Professional Growth at Infoxchange
Hayley had a thriving career at Infoxchange, feeling happy and engaged with her work alongside her team. Leaving behind something good felt odd, but she had confidence that she would return just as strong. After being away for seven months, Hayley couldn't anticipate her exact feelings, but she knew she was about to embark on a life-changing experience, parenthood. Fortunately, she felt well supported, staying connected with colleagues through regular communication and catch-ups, which made her feel valued and aligned with the organisation even during her absence.
When the time came for her return, Hayley had maintained open communication with her manager and colleagues, making it a matter of choosing and confirming a return date. She looked forward to getting back into the swing of things. The flexibility to work from home and transition into a more internal role made the process smooth and manageable, for which she was grateful.
Hayley's return was met with a warm welcome from her team. Face-to-face connections helped her reorient herself and understand new projects. The main challenge she faced was the need to feed her child every few hours, but she had established a supportive environment both at work and at home, allowing her to navigate these challenges successfully.
Overall, Hayley's experience of returning to work with Infoxchange was positive. Her commitment to staying connected and the organisation's encouragement played crucial roles in making her transition back to work a success. The option of check-ins during her leave and the support provided by Infoxchange enabled her to plan her return effectively. As a new parent, Hayley deeply appreciated that returning to work has been a positive outcome for herself and her family.
During her time away, Infoxchange provided Hayley with paid parental leave at her full wage and additional supports that proved to be very helpful in the early days of motherhood.
Ruth's Journey: Mastering Parenthood and flexibility at Infoxchange
We would like to share the inspiring story of Ruth, a valued member of our Infoxchange family, as she shares a story of her account of taking parental leave, cherishing precious moments with her daughter, and eventually returning to the workplace.
Ruth has been an integral part of the Client and Case Management delivery team at Infoxchange for four years. As a Team Leader, she enjoyed working on exciting projects with her amazing colleagues. But when she decided to take parental leave, she had no idea what was in store for her.
During her year away from work, Ruth fully embraced motherhood and cherished every moment with her daughter. As the year came to an end, she felt a growing desire to re-engage her professional self and enjoy a hot cup of coffee at her desk.
She was pleased the company was incredibly supportive. Infoxchange quickly accommodated Ruth's request to return as a part-time Consultant and even assigned her to a project she was familiar with. This smooth transition made her feel right at home again.
What made Ruth's return even more special was the warm welcome she received from her team at a morning tea, colleagues regularly checking in on her and from a return-to-work buddy who was assigned to her and provided invaluable support and guidance as she adjusted to balancing work and family life.
Overall, Ruth's experience returning to Infoxchange was exceptional. The flexible working policy allowed her to work from home, saving her valuable time and providing flexibility for her one-year-old's routine. The "keeping in touch" days eased her anxieties about returning, allowing her to reconnect with the team before officially starting.
Ruth's journey exemplifies Infoxchange's commitment to creating a supportive and family-friendly environment. She is grateful for the understanding and policies that made her return a positive and fulfilling experience.
Jenna's Journey: Balancing 3 kids while optimising Infoxchange's enhanced policies
Jenna, a valuable member of Infoxchange's P&C team, went on3 maternity leaves during her time with us. Her most recent leave, after the birth of her third child was a big deal, she took 15 months off with her last child and around 10 months each with her other two. She knew she needed that extra time to handle the parenting juggle. Infoxchange supported her transition back by offering Keep in Touch days and keeping her in the loop through Town Hall updates.
She noticed how Infoxchange's policies had improved since her first maternity leave six years ago. Back then, they didn't have top-up pay, and her time off didn't count towards Long Service Leave. But things had changed. Now, the top-up to government parental leave pay for 18 weeks made a significant difference. Flexible working options also helped Jenna manage her schedule, allowing her to drop off and pick up her kids at different places and support their extracurricular activities.
Jenna's experience shows how Infoxchange is dedicated to supporting working parents and creating an inclusive environment with a focus on work-life balance and enhanced policies.