Technology for social justice
Meet the service providers using Ask Izzy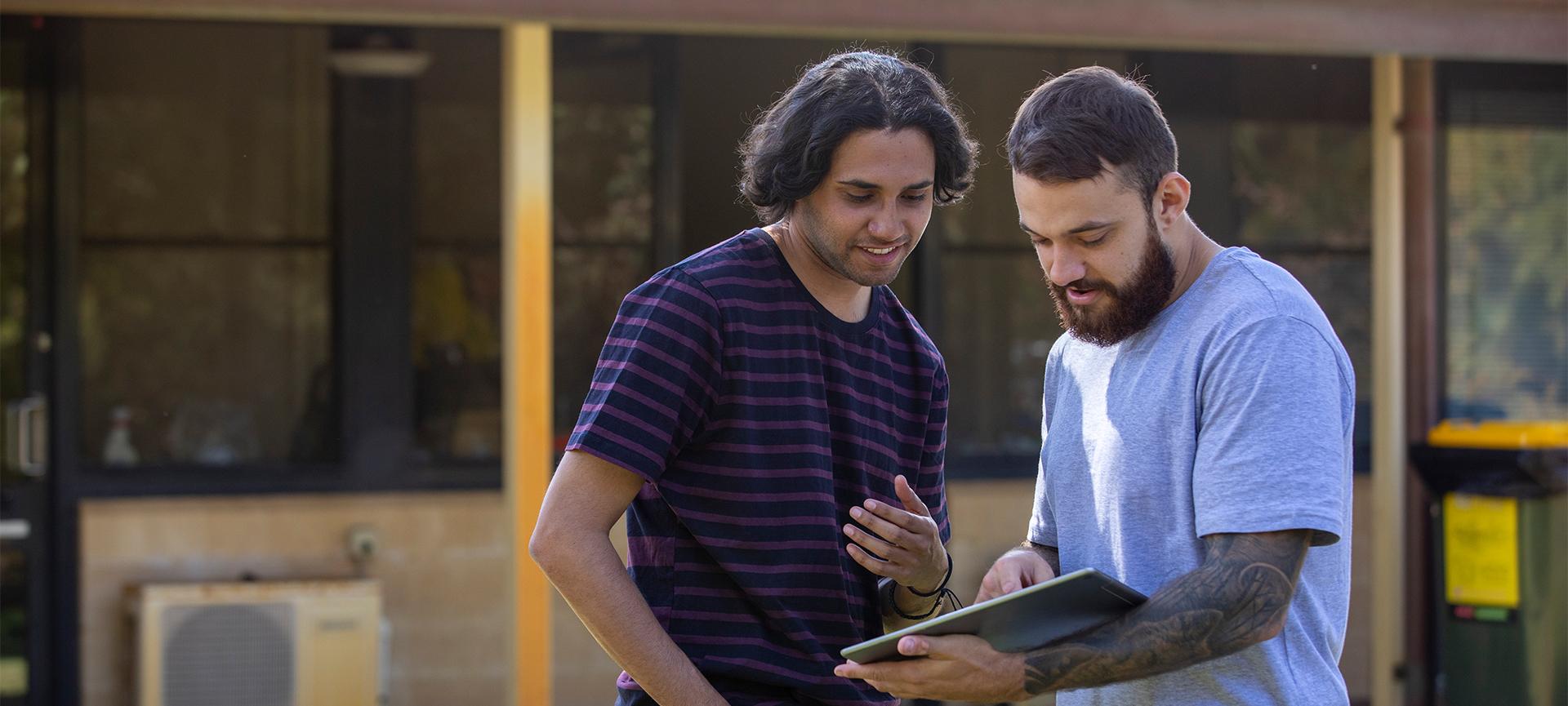 Meet the service providers using Ask Izzy
Northern Community Legal Centre
" Ask Izzy is one of the best technological innovations in the sector – it's a very simple solution to a complex problem. "
Taking a holistic approach to improving mental health, Morgan Wright works with the Northern Community Legal Centre's (NCLC) legal team to support clients to self-help though Ask Izzy.
Northern Community Legal Centre (NCLC) provides legal advice and casework to vulnerable and disadvantaged people in Melbourne's northwest. These groups include refugees and newly arrived migrants, people experiencing family violence, youth, LGBTIQ+, Indigenous and Torres Strait Islander people, and people with disability or a mental health diagnosis.
Morgan Wright is NCLC's Mental Health Support Coordinator. He works closely with the centre's legal team to support clients with their non-legal needs through a rigorous intake and assessment process. It's an often fast-paced and unpredictable environment.
"It's a classic community legal centre, you never know what each day will bring," says Morgan. "It keeps things interesting, but you have to be really adaptive and flexible!"
Morgan is grateful for any tools that can make his job easier and remove unnecessary administration. He loves Ask Izzy for that reason. He found out about Ask Izzy through a former client and has been using it ever since.
"I was working with older homeless men at the time, and I was super new. A colleague recommended I speak to some clients – they'd been in and out of services for so long, so they'd be my best resource for learning what services are out there. One of them ended up showing me Ask Izzy on his phone, and that was it."
With his background in community mental health, Morgan is uniquely placed at NCLC. While lawyers' professional training teaches them to have a narrow focus on clients' legal issues, Morgan takes a broader approach. He chats to clients at great length to identify areas where they may need support, and he works with them to find the best service to meet their needs. That often means finding additional support for issues like mental health, housing, gambling, alcohol and other drugs.
"When I don't have that knowledge bank, I just rely on Ask Izzy instead," says Morgan.
"Ultimately, by providing legal support and advice we're trying to improve people's lives, and we're also trying to improve their capacity to self-help and help other people in their community."
If a client's circumstances are too challenging for them to self help, Morgan will do the research on their behalf. But whenever he can, Morgan tries to empower clients to self-help and tells them about Ask Izzy so that they have it in their support toolkit whenever they might need help in the future.
Morgan also runs a lot of education and training about mental health for other workers in the sector. He uses the opportunity to promote Ask Izzy too.
"I always say, 'If you don't remember anything from this presentation, just remember that you can go to askizzy.org.au and easily find the service you need. You don't have to hold all this information in your head, someone's already done it for you. Don't reinvent the wheel!'"
Morgan hopes that all workers across the community sector will start using Ask Izzy and telling their clients about it. "Here's a tool that everyone uses, it's totally easy to use, and you need to be using it too!" he says.
"Ask Izzy is one of the best technological innovations in the sector – it's a very simple solution to a complex problem."
---
Click here to download or order Ask Izzy promo material.
Want to share your Ask Izzy story to help us spread the word? Get in touch with our marketing and communications team.