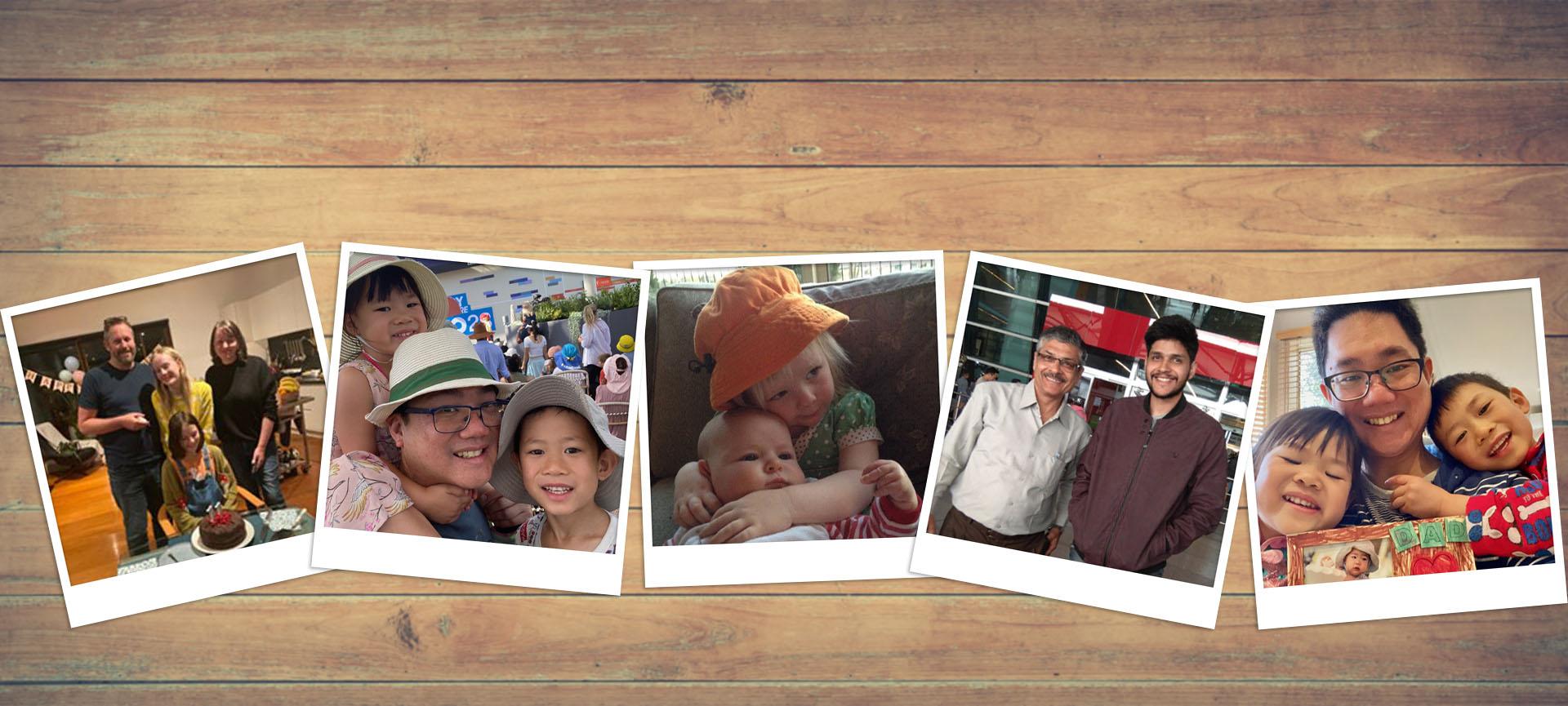 Global Day of Parents: Families Balancing Work and Home Life
Donald's Parenthood and Career Balancing Journey at Infoxchange
Donald Mu, a dedicated member of the Infoxchange team, faced a major milestone when he became a father to his first child.  Balancing his career with the joys and challenges of parenthood was no easy task, but Infoxchange stood by his side every step of the way.
At first, Infoxchange didn't have a formal parental leave policy in place. However, thanks to the efforts of Infoxchange, a policy was established later on to provide additional support during parental leave. This allowed Donald and other employees to receive extra benefits / financial assistance while taking time off to care for the birth of his second child.
Infoxchange has always been supportive of its employees' needs, even before the formal policy. Donald experienced flexibility from his managers and the company, allowing him to take care of his family when necessary. Whether it was taking time off for sick kids, working from home, or adjusting his hours, Infoxchange understood the importance of family and accommodated Donald's responsibilities while maintaining his full-time position.
Infoxchange also fosters a family-friendly culture. Donald was welcomed to bring his children into the office, creating a positive environment where children were embraced. This inclusive atmosphere allowed Donald to seamlessly integrate his professional and personal life.
The COVID-19 pandemic introduced remote work, which became a game-changer for Donald and his family. With the flexibility of working from home, Donald could easily manage childcare pickups and choose when to use aftercare services. This arrangement not only saved money but also gave him the ability to respond quickly to family needs.
Donald found comfort in knowing he was not alone. Many of his team members were also raising young children, creating a supportive community within Infoxchange. They shared stories and experiences, and even in team meetings, children's presence lightened the mood. Donald was grateful to be part of a team that valued work-life balance and embraced the challenges of parenthood.
Donald's  journey highlights Infoxchange's commitment to supporting employees as they navigate parenthood while pursuing their professional growth. With flexible policies, an inclusive culture, and recognition of work-life integration, Infoxchange empowers parents like Donald to succeed both at home and in their careers.
Divi's Journey: Finding Strength in Support during Challenging Times at Infoxchange
In April 2022, Divi, one of our valued team members at Infoxchange, faced a devastating personal situation when his father in India received a stage 4 cancer diagnosis. Divi, who was living and working in Brisbane, Australia, found himself grappling with the immense challenge of supporting his father while being physically distant. During this trying period, he feels Infoxchange emerged as an unwavering source of support, recognising the profound impact this situation had on Divi's life.
Understanding the gravity of the circumstances, Infoxchange took swift action to ensure Divi's well-being and provided him with an invaluable opportunity. Divi recalls that the company granted him the flexibility to travel to India and work remotely, allowing him to be there for his father during his time of need. This compassionate approach demonstrated Infoxchange's commitment to supporting employees through personal struggles, recognising the importance of striking a balance between work and family obligations.
Over the course of several months, Divi's father endured immense hardship, and the entire family faced the weight of his illness. In December 2022, Divi sadly lost his father, leaving behind a host of responsibilities as the eldest son. Throughout this heart-wrenching period, Divi feels Infoxchange extended its support, recognising the complexities he faced in managing his father's affairs and providing him with the flexibility required to navigate through these challenges.
From Divi's perspective, Infoxchange's exceptional flexibility made all the difference in balancing his professional responsibilities with his commitment to his father's healthcare needs. Accommodating his work schedule according to his availability and priorities, Infoxchange ensured that Divi could be present for his father's numerous doctor's appointments, often extending late into the evening. This level of understanding and empathy fostered an environment where Divi felt supported in every step of his journey.
As June 2023 approaches, Divi is preparing to return to Australia, reflecting on the profound impact Infoxchange has had on his life. Looking back, he is immensely grateful for the understanding, empathy, and support during this extraordinarily challenging year. The organisation's commitment to its employees' well-being and its fostering of a compassionate work environment have left an indelible mark on Divi's experience.
Infoxchange, as an employer, recognises the importance of standing by its employees during times of profound personal loss and difficulty. Divi's journey is a testament to the organisation's commitment to supporting its team members in achieving a healthy work-life integration. Through its unwavering support, Infoxchange has proven itself as an employer that values the well-being and personal growth of its employees.
Divi's story serves as an inspiration to all, a reminder that compassionate support can make a significant difference in navigating challenging times.
Enclosed is a cherished photograph of Divi and his father at Delhi Airport, capturing a moving moment that symbolises their bond and the strength they shared. It stands as a reminder of the journey they embarked on together.
Brendan's Journey: Parenthood and working at Infoxchange.
Below is an account of Brendan's story about being a parent while working.
"I've been a very happy dad since 2010 when our first daughter Edie was born. Seventeen months on we had Greta.
Back then I was contracting into State Government in the community grants space. With our first child on the way, Viv (my partner) and I planned a trip to Spain where Viv's sister was living at the time.
We were away four months with Edie just four months old. One of the best things we ever did. It was a great trip that relaxed us both into parenting, giving us real shared time and space to work out how to raise a kid and have fun doing it.
We'd have travelled again with Greta if we had the funds, but contracting work was either full on or full off and wasn't easy to plan around. We still took time off, but separately, and noticed how much the balance shifted between parenting as fun vs parenting as work.
The kids have grown up in Abbotsford, just around the corner from the old Infoxchange Melbourne office which we walked past most days going to and from childcare.
"What's In-Fox-Change?" they would ask – and being a know-it-all Dad, I was obliged to find out…
Later on, they went to the local Primary School, one street along from ours – where they have a bilingual Chinese program – and where my grandmother once worked as a trainee teacher in the 1930s, something I only found out after Edie was enrolled.
When Viv went back to work, I dropped the contract work, and got a part time job at a NFP. I wanted to work in the community sector, and as locally and as flexibly as possible, so I could be around more for the smalls.
I was excited to start back full time at Infoxchange in 2021', with both kids now in primary school. I had followed the work of the organisation since answering the kid's questions about it, and of course the office was as close to home as ever, yet, suddenly it was so far away…
We were fortunate our kids were just old enough, and literate enough (both analogue and digitally) to cope with pandemic-style "home schooling", but the transformation of our 2-bedroom home into home plus school plus two workplaces was challenging.
I moved jobs. I left Infoxchange after just one year – hoping that going back to more familiar work would make things easier – but it wasn't the job that was the problem, it was just pandemic life in Melbourne.
I went back to Infoxchange in late 2022, and they were terrific in welcoming me back and in understanding the extra demands on everyone during this time. IX continues to support flexible work arrangements for all staff. For some people that has them continuing to work remotely. For me, I am really happy to walk a few blocks further to the new office and separate work from homelife again.
Edie is now at the local High School, and Greta (who always gets converted to GREAT by technology) are so much more independent now. They call me after school to let me know when they get home, and if they lock themselves out, I'm not far away.
We are planning a trip to China in the next few years, where – hopefully – the kids can interpret and look after us."
We would like to thank Brendan for sharing his story with us!