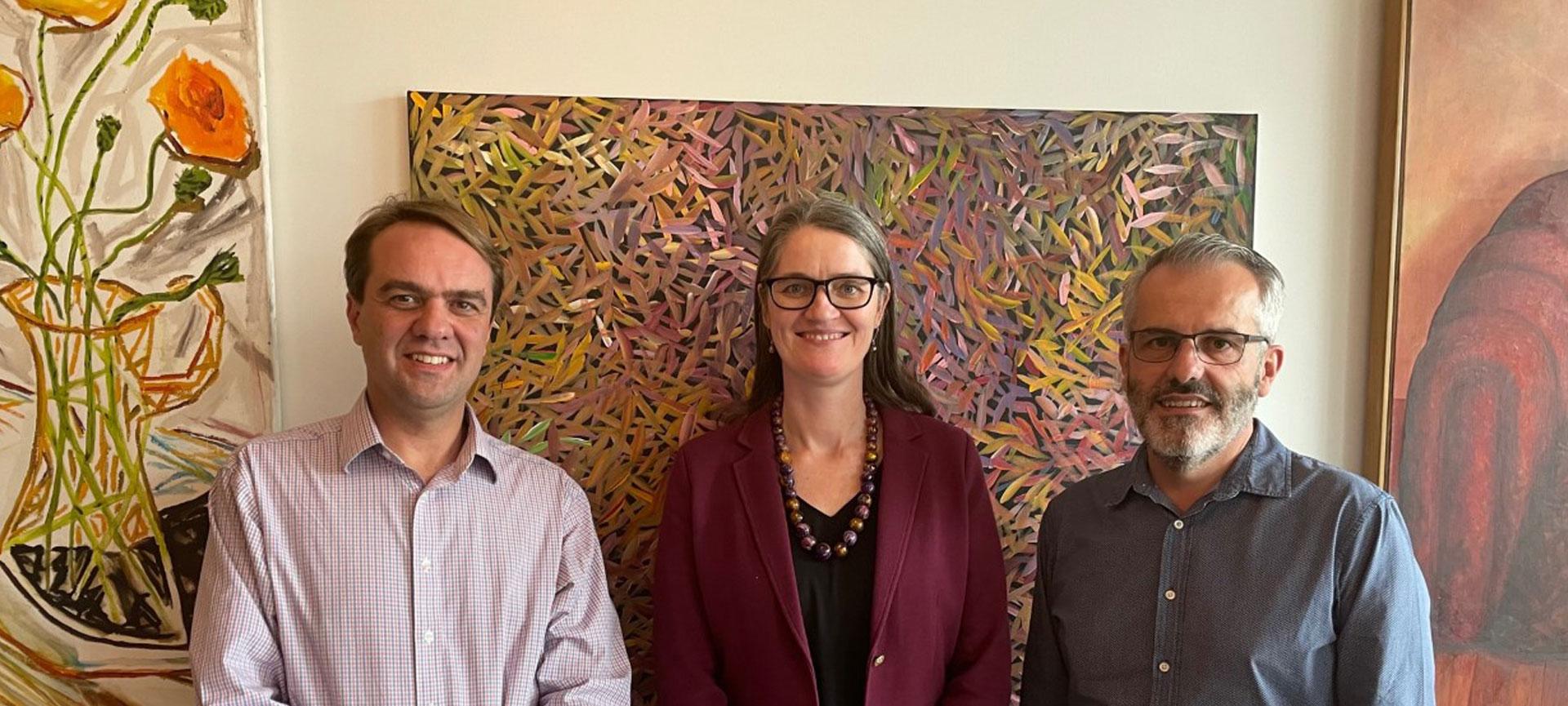 Infoxchange farewells Board Chair Stan Krpan and welcomes Morgana Ryan
Banner image: David Spriggs, Morgana Ryan and Stan Krpan.
This month we say farewell to Infoxchange Group Board Chair, Stan Krpan. Serving on Infoxchange's Board for the last decade, and as Chair for the past four years, Stan has steered Infoxchange through a period of significant growth, including the merger with Connecting Up in 2018.
"I am enormously proud of my time with Infoxchange and the organisation's huge achievements and growth over the last 10 years. The Infoxchange Group is one of the most successful social enterprises in Australia," Stan says.
In his time as Chair, Stan has seen Infoxchange go from strength to strength. During this period, we have secured trusted corporate partnerships to leverage our sector knowledge and ICT capabilities, doubled our revenue and most importantly increased the impact our products and services have on the lives of Australians experiencing hardship and disadvantage.
"Ask Izzy has been a massive achievement that has now reached more than 3 million people and connected them with the services they need."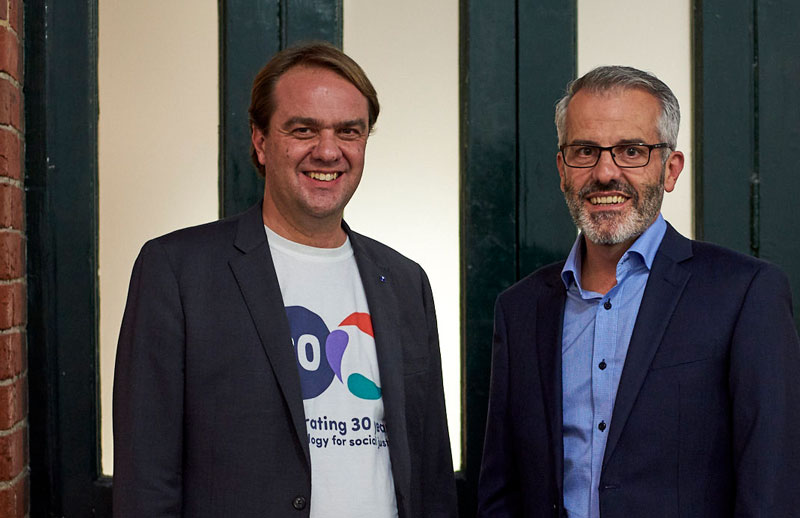 David Spriggs (Infoxchange CEO) and Stan Krpan at the Infoxchange 30 year celebration, 2019
Stan says the merger between Infoxchange and Connecting Up has been a particular highlight.
"Joining forces with Connecting Up has allowed us to combine the influence and partnerships of two longstanding and proud organisations using technology for social good. As a result of this partnership, we have expanded our not-for-profit client base to over 20,000 organisations and truly established ourselves as a national organisation," Stan says.
The last 12 months have presented many challenges, including the Australian bushfires, floods and the global COVID-19 pandemic, and Stan says that the Infoxchange Group has stepped up to the challenge.
"We needed to ensure our services adapted to these challenges and were available to those in need, and our team did just that, emerging successfully and stronger than ever," Stan says.
"I am hugely grateful to David Spriggs, our CEO, and the entire team of hard working, committed professionals that make the Infoxchange Group the unique and influential organisation it is today."
Stepping into the role of Chair, we're thrilled to welcome long-time Board member Morgana Ryan. Morgana joined the Infoxchange Board in 2012 and has served as Deputy Board Chair and Chair of the Strategy Committee since 2017. She began her career in coding (an unlikely start for a graduate of economic history!) and has since worked in strategy, IT and business transformation across the corporate and international development sectors. 
David Spriggs (Infoxchange CEO), Brian McLaughlin (Infoxchange Head of Community Products & Services) and Morgana Ryan at the launch of Ask Izzy, 2016.
"I've learnt a lot about good governance from Stan and can't thank him enough for all he's done for the organisation. Stan has always led with vision and a clear passion for social justice," says Morgana.
Morgana is passionate about the role of technology in creating positive social change. Through her work in international development, she's seen first-hand how differences in technology affordability and digital literacy can impact the ability of individuals, organisations and countries to thrive. She says technology can be a real game changer.
"To truly address inequality, technology must be part of the solution, both at an individual and organisational level," Morgana says.
When Morgana began working in international development, she was excited to use her IT and consulting skills to help make a difference. But she was shocked to discover the sector wasn't leveraging technology to amplify impact. An obsession with administration and overhead costs was driving attention away from technology investment as an enabler of impact. That was one of the drivers that led Morgana to co-author two books to help international NGOs think about how to effectively use strategy, technology, knowledge sharing and good organisational processes to deliver their vision and mission. 
Morgana says it's been wonderful to watch the Infoxchange Group grow in reach and impact during her time on the Board.
"It's been amazing to see how our team innovated from our core products and services to create new things like Ask Izzy, our client and case management solutions and more recently the Digital Transformation Hub," Morgana says.
"I'm constantly amazed by all that our staff and volunteers have achieved, and in particular, how they've adapted over the last 18 plus months and continued to grow the impact of the organisation during the bushfires and then the pandemic."
Morgana is looking forward to working with Linda O'Brien (Deputy Chair), Partha Nag (Finance and Risk Committee Chair) and the rest of the Board to bring new ways of thinking, different life experiences and insights to the group. She says this is vital when recruiting new Board members. "Diversity, in many forms, leads to better governance," Morgana says.
"I'm excited to continue working with CEO David Spriggs and the rest of Infoxchange Group team as we pursue our vision of technology for social justice."