National digital literacy program launches in Canberra
Last month we headed to Canberra to officially launch Go Digi, our national digital literacy program, at the National Library of Australia.
It was great to see over 50 leaders from government and the community and corporate sectors take part in a lively discussion about the opportunities and challenges of improving digital literacy in Australia.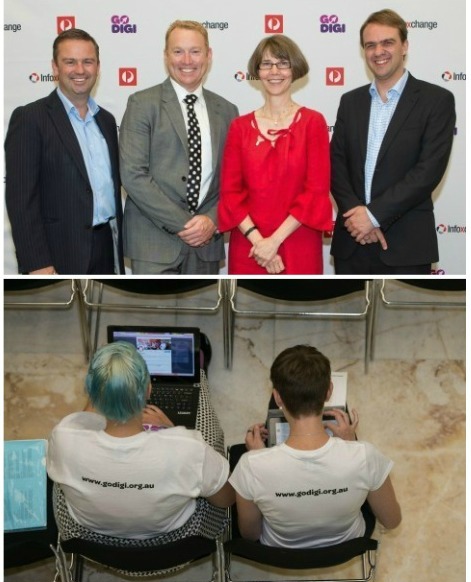 Top: Former Tasmanian Premier and MC, David Bartlett, Australia Post's Andrew Walduck, the National Library of Australia's Anne-Marie Schwirtlich and Infoxchange's David Spriggs. Below: Go Digi staff members tweet from the event.
With one in five Australians missing out on the benefits of being connected and participating in the digital world, it is critical that all three sectors come together to tackle the problem, our CEO, David Spriggs says.
"The major barrier restricting people from getting online is confidence, which is why Go Digi is focussed on building skills through face-to-face learning, community mentoring and leveraging network partners already established within their communities," David says.
"To deliver Go Digi nationally and to communities most in need, we are developing a Community Partner Network to build on the great work currently undertaken by local governments, libraries, neighbourhood houses and other not-for-profit organisations around the country."
The launch was hosted by former Tasmanian Premier and digital literacy advocate, David Bartlett, and featured a Q&A with Nan Bosler, President of the Australia Senior Computer Clubs Association, Samantha Yorke, Head of Policy at Google and Prof. Peter Radoll, Dean of Aboriginal and Torres Strait Islander Education and Research at The University of Newcastle.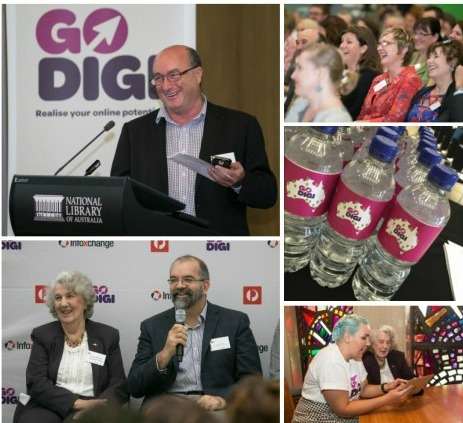 From top left: Infoxchange's Brendan Fitzgerald speaks at the forum, attendees at the launch, Nan Bosler and Prof. Peter Radoll respond to questions, Go Digi water bottles, and Infoxchange's Tegan Kop with Nan Bosler.
It also included speeches from our CEO, David Spriggs, Australia Post's Andrew Walduck, and the Director General of the National Library, Anne-Marie Schwirtlich.
Because confidence is a major barrier preventing people getting online we asked tech leaders, the general public and guests to share their "digi confession", a time when they have had trouble with technology, to show the one in five Australians who aren't online that we all struggle with technology sometimes.
Below is one of our favourites from David Bartlett featuring our former Prime Minister, Julia Gillard. Thank you to everyone who has been involved in Go Digi so far, we encourage others to get involved too. 
Find out more about Go Digi ​