David joins Vinnies CEO Sleepout
Our CEO David Spriggs took part in the Vinnies CEO Sleepout last month and raised $5422 for programs to support people who are homeless and those at risk.
Thank you to everyone who supported David's campaign.
David joined about 200 other CEOs who slept on the ground outside the Melbourne Convention Centre.
Around Australia, 1241 CEOs took part and raised more than $5.8 million for Vinnies homeless services.
"This was just one night of cold and discomfort and it's heartbreaking to think that for so many people this is their reality every night," David says.
"I was a little tired the next day but what an experience. The Vinnies team was amazing and I thank them for the opportunity to learn more about homelessness."
David says the Vinnies CEO Sleepout isn't just about generating funds, it aims to raise awareness of homelessness and its causes.
"To see influential business people talking about homelessness, learning more about its complex causes and wanting to make a difference was a positive thing to be part of," he says.
"It was also good to be able to talk to Vinnies staff and the other CEOs about our web app to help people who are homeless or at risk of homelessness to locate nearby accommodation, food and other essential services. The idea received a lot of support."
On any given night in Australia one in 200 people are homeless.
"Sadly an estimated 25 percent of people experiencing homelessness are Aboriginal and Torres Strait Islander Australians," David says.
"As NAIDOC week approaches that is something we should all be aware of."
Ngwala Willumbong's Victorian Indigenous Statewide Homelessness Network Coordinator, Dan Laws, says family violence and drugs, especially ice, have contributed to homelessness.
"Eight out of 10 clients we're working with have come to us through family violence," he says.
"One of the biggest issues is substance abuse.
"This ice epidemic is killing our community and definitely contributing to homelessness issues."
Dan says that the building of stronger relationships between mainstream organisations and indigenous services would help.
"It's very hard to do what we do with the resources we have," he says.
Find out more about what we're working on in housing and homelessness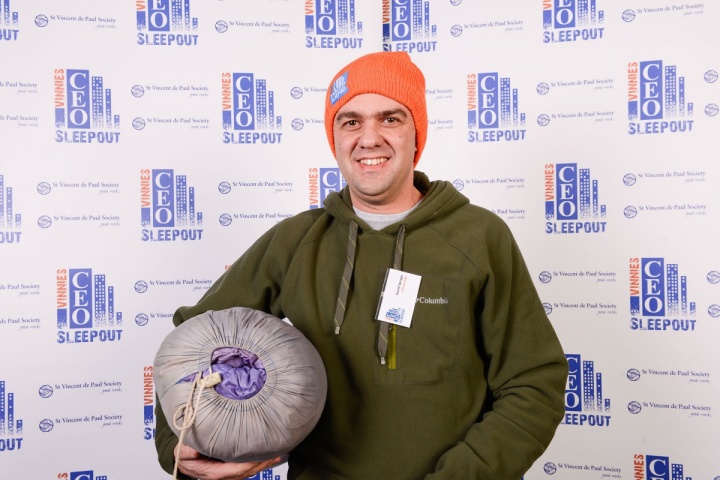 David Spriggs at the Vinnies CEO Sleepout