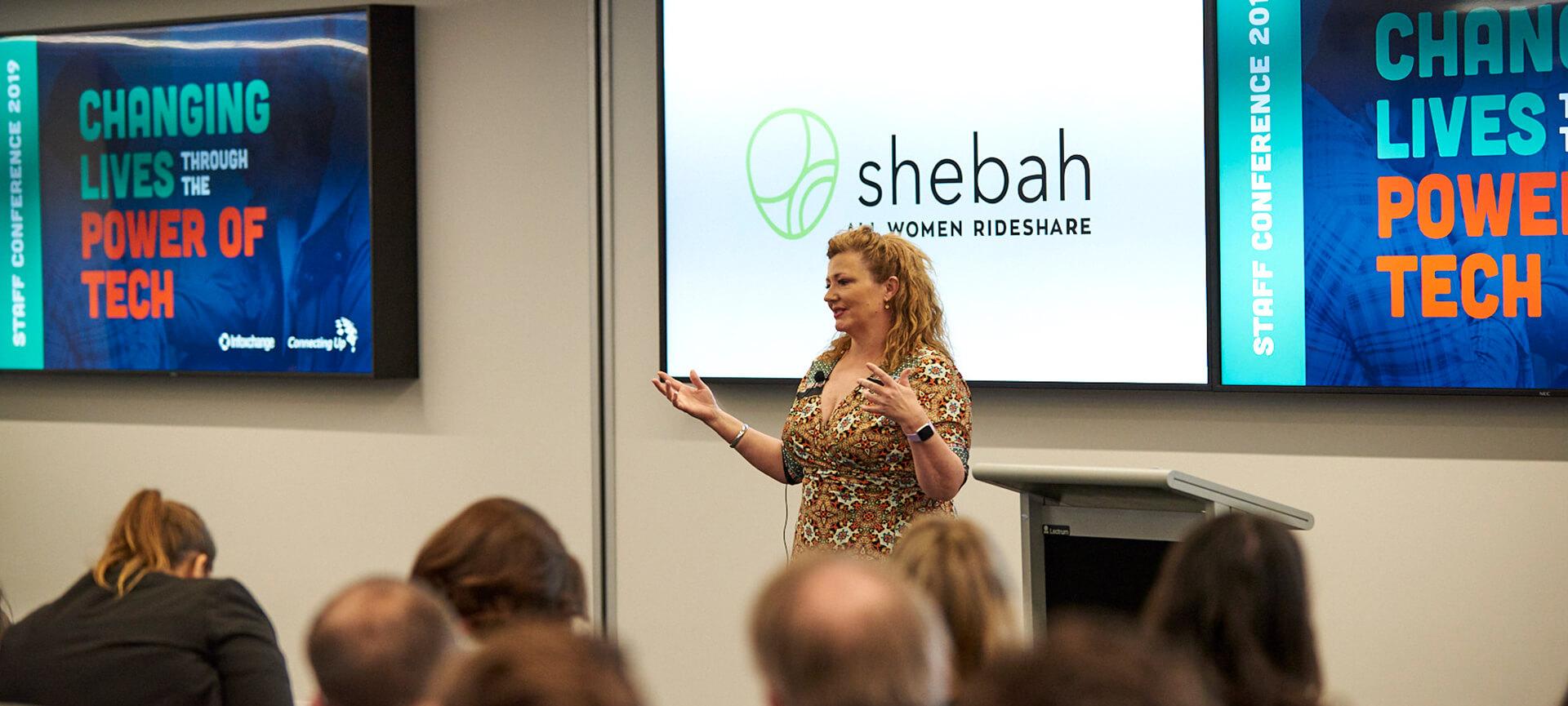 How an all women's rideshare is using tech to bring safety and peace of mind
This year Infoxchange marked its 30th birthday and our recent joining of forces with Connecting Up. To celebrate, we all came together for our very first all staff conference with the theme "Changing lives through the power of tech" – you can read more about it here.
Staff heard from some inspiring guest speakers about how they've used technology to build a better community. In this blog, we share how George McEncroe, Founder of Shebah, went from comedian to tech entrepreneur and her mission to provide safe transport options for women and children.
---
Shebah Founder George McEncroe has had a string of job titles to her name – writer, comedian, teacher, disability worker – but one role she never expected to add to that list was tech entrepreneur.
As a newly divorced mum to four teenage kids, her unsteady annual income meant that banks were not keen on giving her a home loan. She was looking for an additional income stream and thought that driving for a ride sharing company could be an option.
At the time George was holding down a couple of part-time jobs, including teaching at TAFE. She noticed that at the end of her 9:00pm class, her male students would throw their back packs on and head out the door but the female students would group together to walk through their transport plans. How are you getting home? What bus are you taking? Is your phone charged? Do you want a ride from my mum to the station?
She talked to her teenage daughter and her daughter's female friends and realised this kind of mental gymnastics to get home safely was actually the norm for young women.
"There were a bunch of reports done in 2016 that showed one in three girls aged 15 to 24 thought it was unsafe for them to leave their house after eight o'clock at night," says George.
George was doing a lot of pick-ups and drop-offs for her own kids. She began thinking about how women make up 70 percent of the casual workforce and how driving for an income, in theory, should be a great job for women.
"More women actually have driver's licenses than men. We have fewer accidents. We're easier to insure. So why aren't there more women partaking in this work?" says George.
"On the Uber Platform, about eight percent of drivers are women and for taxis, it's only six percent."
That's when George had an idea – a national all women's rideshare service and a plan to make it happen through the clever use of technology.
Through GoFundMe, George had soon raised more than $11,000 which led to over $1 million from private investors.
George and her team built the app and launched on International Women's Day in 2017. Shebah is now available right across Australia, including regional areas.
George says she hadn't predicted the massive implications of Shebah and just how much it would help women, both drivers and passengers.
Through Shebah's technology, there are women who now feel confident and safe enough to leave the house. Importantly, mothers can actually work around school pickups and can even drive with their own children in the car.
George receives all kinds of positive feedback from Shebah users, ranging from parents whose children have a disability, young girls who have been able to take up a swimming scholarship and get safely to the pool at 4:00am, to separated families who can get their children from mum's house to dad's house without the emotion that those drop offs can bring. 
George says there are also the bookings with a more serious tone.
"We do a lot of domestic violence work. We get a call, 'we need you in the house. We need two car seats. The husband's absent. This woman needs to be out and somewhere safe'," says George.
George was very aware that ride share companies get a bad rap, so she ensured that one percent of every Shebah fare would go to supporting charities.
"The charities that we support go to fix the problems we're trying to address. So it's Women's Housing Limited, it's Fitted for Work, it's PANDA and Northern CASA's consent program. Our drivers have a real sense of purpose apart from keeping girls safe or getting a mum home from hospital," says George.
"As a business we have to be small and nimble and agile and punch above our weight," says George.
"Our mission is to get women to relax. If we can do that, I think will have achieved a lot. We're enormously proud of where we've come and the contribution we've been able to make in various sectors, including the domestic violence sector and the legal justice system."