VincentCare helps test Ask Izzy
Late last year, in the lead up to the launch of Ask Izzy, we enlisted the help of VincentCare to test the site with the people who would eventually be using it.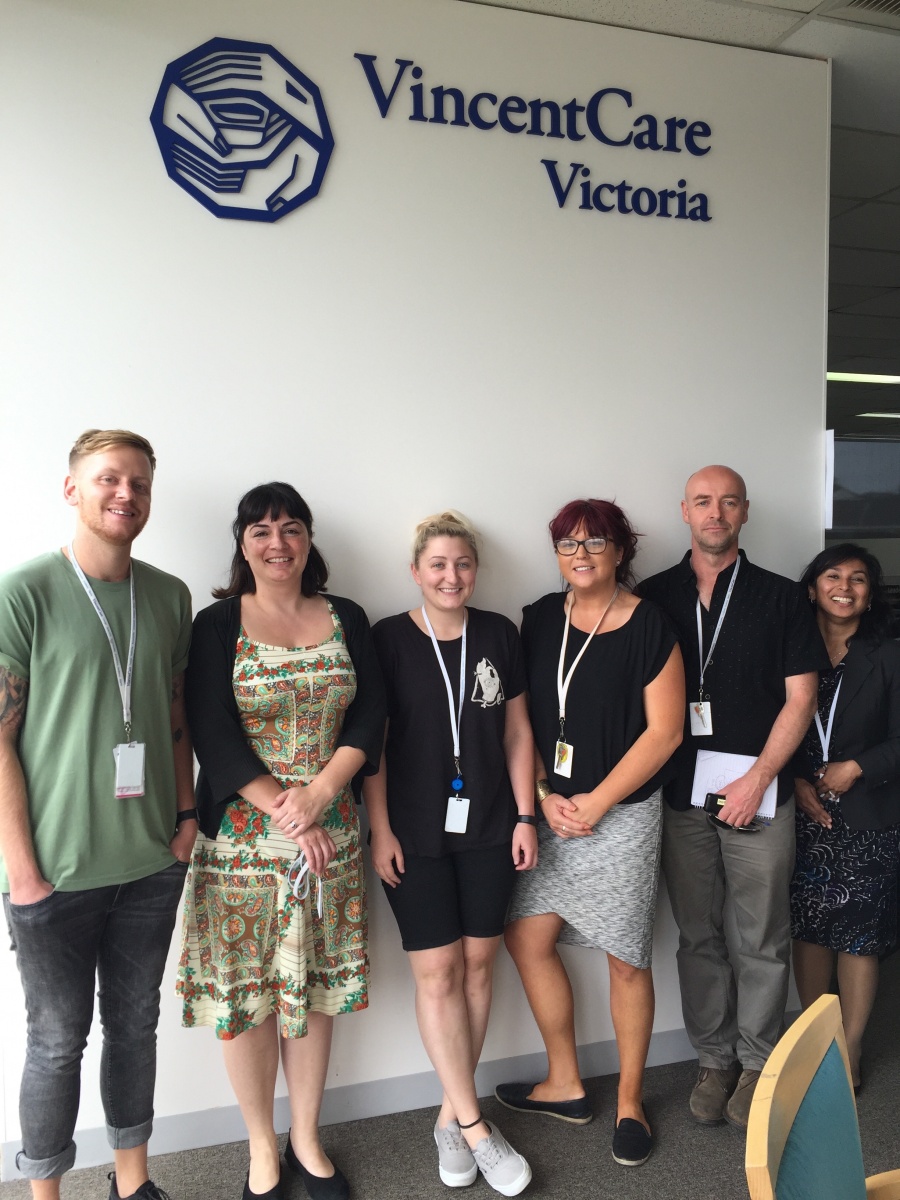 The VincentCare team
Case managers from VincentCare were given some initial training, then they each picked four clients to provide feedback and make sure the site was client responsive. These included people escaping family violence, young adults, single long-term transient people and those struggling with alcohol and other drug issues.
The clients came into VincentCare's offices and used Ask Izzy on various devices, while case workers noted what they were looking for if they could find it and asked the clients if they would use it in times of crisis.
"The input of our staff and clients in the development of Ask Izzy has made a huge difference to the useability and simplicity of the platform," VincentCare CEO John Blewonski says.
Thanks to VincentCare and their clients' feedback, we were able to hone and simplify the massive amounts of information from the homelessness services sector so that everything could now be accessed through a central point rather than represented via individual services.
John says that Ask Izzy would make a huge difference to the way people sought help.
"Importantly, Ask Izzy de-stigmatises seeking support. When someone finds themselves in crisis, they may find it difficult to ask for help. Ask Izzy allows them to link to our services and get the support via a non-judgemental platform," John says.
"This is the first time the complexity of services and programs within our sector have been brought together in a user-friendly format. The general public can now access info; they can find services that they might otherwise not know about it. "
Ask Izzy isn't just for the public to use; as service providers, case managers at VincentCare will be able to use Ask Izzy as a central source for all referral options available.
Instead of using a spreadsheet which needs constant updating, staff will be able to use Ask Izzy to check what's on offer and then give clients up to date information.
Staff can also show clients how to use the site, putting people in charge of finding the help they need, which can be an empowering process.
See how it works by visiting Ask Izzy