When employment is more than just a job
Powernet IT Solutions see themselves as a family.
So when CEO, Dan Williams, heard about Youth IT Careers from an industry peer who was already involved in the program, he was immediately motivated by the idea of supporting a young person to get started in the workforce.
Dan started off volunteering his time to participate in mock interviews designed to give students hands-on job readiness skills and build their confidence for upcoming interviews with employers.
"We felt that Youth IT Careers was a great program and we were keen to be a part of helping young people kickstart their career in the IT industry," says Dan.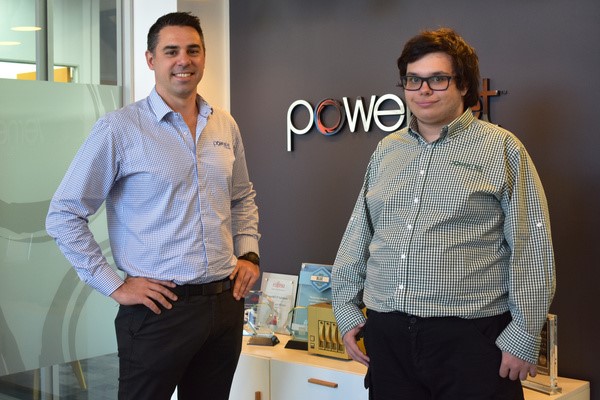 Image: CEO of Powernet IT Solutions, Dan Williams, pictured with Youth IT Careers graduate Joshua.
Females in the IT sector in Australia make up less than 40% of IT employees, but Jessica, a Youth IT Careers graduate, has never let this put her off her passion for technology.
Jessica was interviewed by Dan during mock interviews, but it wasn't until she came in for a follow up interview at the Powernet office, that it became clear that Jessica was exactly the kind of person that the team was looking for.
"We could see that Jessica shared Powernet's culture and values. We quickly made her an offer," says Dan.
For Powernet being able to support a young person and help them progress their careers is extremely rewarding.
That's why, after employing Jessica, they continued their involvement with Youth IT Careers and through another round of student mock interviews, they met Joshua.
Joshua had recently graduated from Youth IT Careers and will now be following Jessica's footsteps and joining the Powernet team.
Dan has this advice for any organisations thinking about bringing a young person into their team, "The best way is to jump in. The Youth IT Careers program takes care of the pre-employment training so all you need to do is provide the opportunity and support."
"Go along to the interviews, experience the energy and enthusiasm of these young people. Once you see firsthand the potential and the possibilities you will want to be a part of it," says Dan.
---
Keen to help a young person kick start their career?