Employers who go the extra mile to make a difference
Evolve IT Australia's company mission stands out from the typical statements you come across in company brochures. Their goal is "making a significant difference in the lives of our team, our families, our clients and our community."
In part they do this by providing IT support for not-for-profits, local government, charity and health based organisations throughout Australia, but they also take corporate social responsibility very seriously.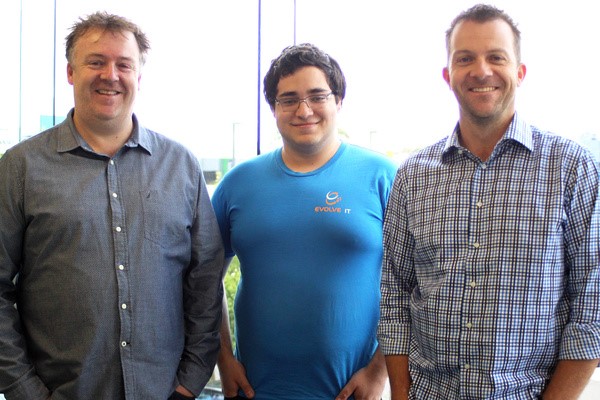 Image: Nick (Founder & Managing Director, Evolve IT), Jayden (Youth IT Careers graduate) and Bernard (General Manager, Evolve IT)
When the opportunity came up to give young people in the community a kick start in their IT career through the Youth IT Careers Program, Evolve IT embraced it.
"The best thing about being involved in Youth IT Careers is having access to such energetic and intelligent graduates who have a thirst for learning," says Bernard Moran, Evolve IT's General Manager.
When the time was right for Evolve IT to recruit through Youth IT Careers, Infoxchange shortlisted a few of the outstanding graduates.
Instead of simply taking on one Youth IT Careers graduate, Evolve IT thought through the benefits of having two graduates working together to allow them to share experiences and ride the journey together.
Through the recruitment process they were introduced to graduates Courtney and Jayden.
Before joining Youth IT Careers, Courtney had been pursuing a career in a very different industry and was working as a pastry chef and cake decorator. Jayden on the other hand had always wanted to pursue his strong interest in technology and moved into the program straight after completing VCE.
After leaving school Jayden found that working life is quite different to school.
"The program is a great way to get started with a career. We study one day a week and work the other four days. Now that I am working I have finally been able to move out of home and have a career to look forward to," he says. 
Courtney found the program support invaluable to getting started in the workforce.
"I have been to multiple employment services which offer this kind of assistance and none of them even come close to the advice and support provided through the Youth IT Careers program," she says.
What stood out to the Evolve IT interview panel when they met Courtney and Jayden was the obvious preparation they had put in. They both showed genuine interest in Evolve IT as an organisation, which made the hiring decision a lot smoother.
"Not only did Courtney and Jayden fit into our culture but they have played a big part in enhancing it," Bernard says.
Evolve IT can see a bright future in IT for Courtney and Jayden. They want to help all of their employees build long careers in technology and grow their skills.
"Within our company we believe that we can teach our employees skills and a work ethic that can be carried through all forms of life, not just at work," says Bernard.
And for Courtney and Jayden they couldn't have found a better place to begin their journey in the workforce.
---
Keen to help a young person kick start their career?