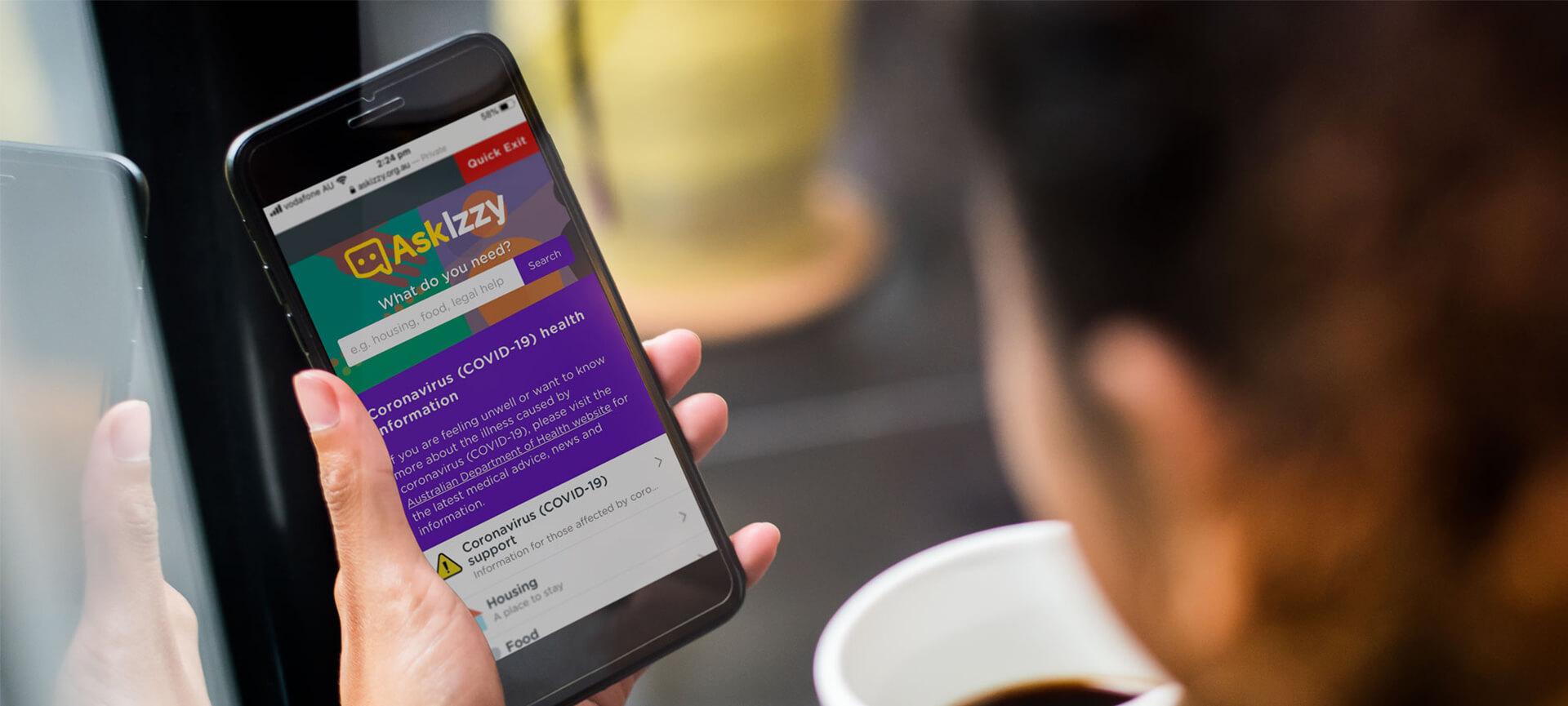 How COVID-19 is affecting Ask Izzy usage
Looking at anonymous search data from Ask Izzy can reveal valuable insights into the changing demand from vulnerable people for support services across Australia, including housing, food, health and more.
We've broken down some of the latest data to show how the COVID-19 pandemic is affecting the way people in need are searching for help on Ask Izzy.
Unprecedented times lead to unprecedented use of Ask Izzy
The word "unprecedented" has been thrown around a lot lately, from public health measures, to eerie scenes of deserted urban centres, to the sheer magnitude of the social and economic impacts that the COVID-19 pandemic is having on individuals, families, communities and businesses.
Unsurprisingly, we've also seen unprecedented use of Ask Izzy in response to COVID-19. More people are seeking assistance from the community sector and government than ever before thanks to widespread job losses and supply shortages.
As a result, searches for help right across Australia have spiked to the highest levels we've seen in Ask Izzy's four-year history. During March and April 2020 we have seen over 450,000 searches for help from across the community.
The graph below shows how the introduction of official lockdown measures and various states of emergency during March coincided with the highest ever use of Ask Izzy in the final week of March: over 20,000 users, and almost 30,000 unique sessions over a seven day period.
Huge increases in category searches
Since the COVID-19 outbreak in Australia, there have been significant changes in the types of categories that people are searching on Ask Izzy.
For example, food searches jumped to 40% in the week that most state and territory governments declared states of emergency and introduced lockdown measures. It was also the week that panic-buying took hold in supermarkets and grocery stores right across Australia.
The following week saw an explosive growth in searches for Centrelink around the time of the announcement of the JobSeeker payment by the Federal Government.
Food and emergency relief services have continued to be the most requested search category as the community has felt the economic impact of the pandemic.
The new normal
Searches on Ask Izzy have now settled down since the enormous surge in late March, but with a higher baseline number of searches than before the pandemic hit (and around 124% higher than the same period last year).
What will the future look like?
We're acutely aware that Ask Izzy will be needed to support vulnerable Australians long after lockdown measures are eased and we return to some semblance of "normal life".
The lasting effects of COVID-19 on mental health, family violence and substance abuse, for example, will remain to be seen for some time. In addition, the financial struggles that people will face from unemployment and a significantly weakened Australian economy will continue to place strong demands on food and emergency relief services.
In terms of Ask Izzy usage, we're expecting any future increase in demand will be strongly linked to the timing of the "tap being turned off" by the Federal Government. While the introduction of wage subsidies and increased unemployment benefits is providing some welcome relief for many Australians, it's very unlikely all sectors and employment types will come out of this pandemic completely unscathed.
As a sector, we know we're in this for the long haul. The Ask Izzy team will be working hard to make sure we keep responding to the needs of the community as we all navigate the post-COVID world.