Building digital literacy in social housing – the Housing Connect Roadshow
The Digi House team spent last month on the road with FACS NSW delivering digital literacy workshops to around 900 front line social housing staff as part of the Housing Connect program.
Digi House aims to build the digital skills and confidence of 20 000 people living in public and social housing, and is delivered with support from Google.
The roadshow started in Campbelltown and ended in Liverpool, with stop offs in Tamworth, Coffs Harbour and many other regional centres along the way. It's been a big month!
Currently there are 3.5 million Australians not online who are missing out on the opportunities that the internet provides. People living in social housing make up a significant proportion of those who are not yet connected.
The focus of the Housing Connect Roadshow was to equip social housing staff with the tools and confidence to empower residents to get comfy with technology and understand the benefits of the digital world.
Our Digi House face-to-face presentations offered social housing staff a fun and interactive way to understand the importance of digital inclusion with practical advice on holding a digital learning pop-up and showcased Digi House and Go Digi's learning guides such as Introduction to apps and Managing Mobile Data.
The learning guides went like hotcakes, as staff recognised they could provide social housing residents with easy and accessible information minus the tech jargon.
The #digiconfession ice-breaker encouraged workshop participants to reveal a time when technology went wrong for them.
One participant in Campbelltown shared that while she was working in a data entry role for a major corporation she accidently deleted all of the previous fortnight's data.
Others had stories of hitting the reply all button on an email trail resulting in over-sharing with colleagues.
The aim of the game gives people the chance to laugh at themselves, to troubleshoot with the group and share in the universality of tech issues.
A big thank you to the FACS NSW team and all the Housing Connect staff we met along the way.
Read more about the Housing Connect Roadshow
Build your own digital skills with the Digi House learning guides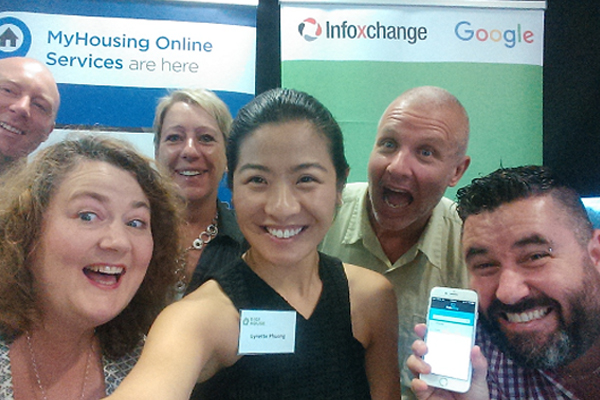 Digi House Program Lead Lynette Phuong (centre) with FACS staff in Queanbeyan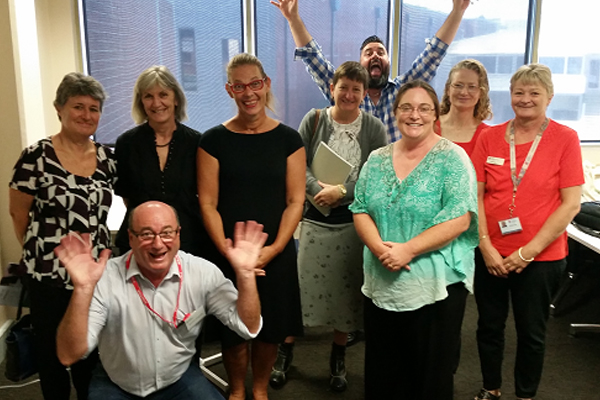 Infoxchange Digital Inclusion Manager Brendan Fitzgerald (bottom left) with the FACS team in Coffs Harbour