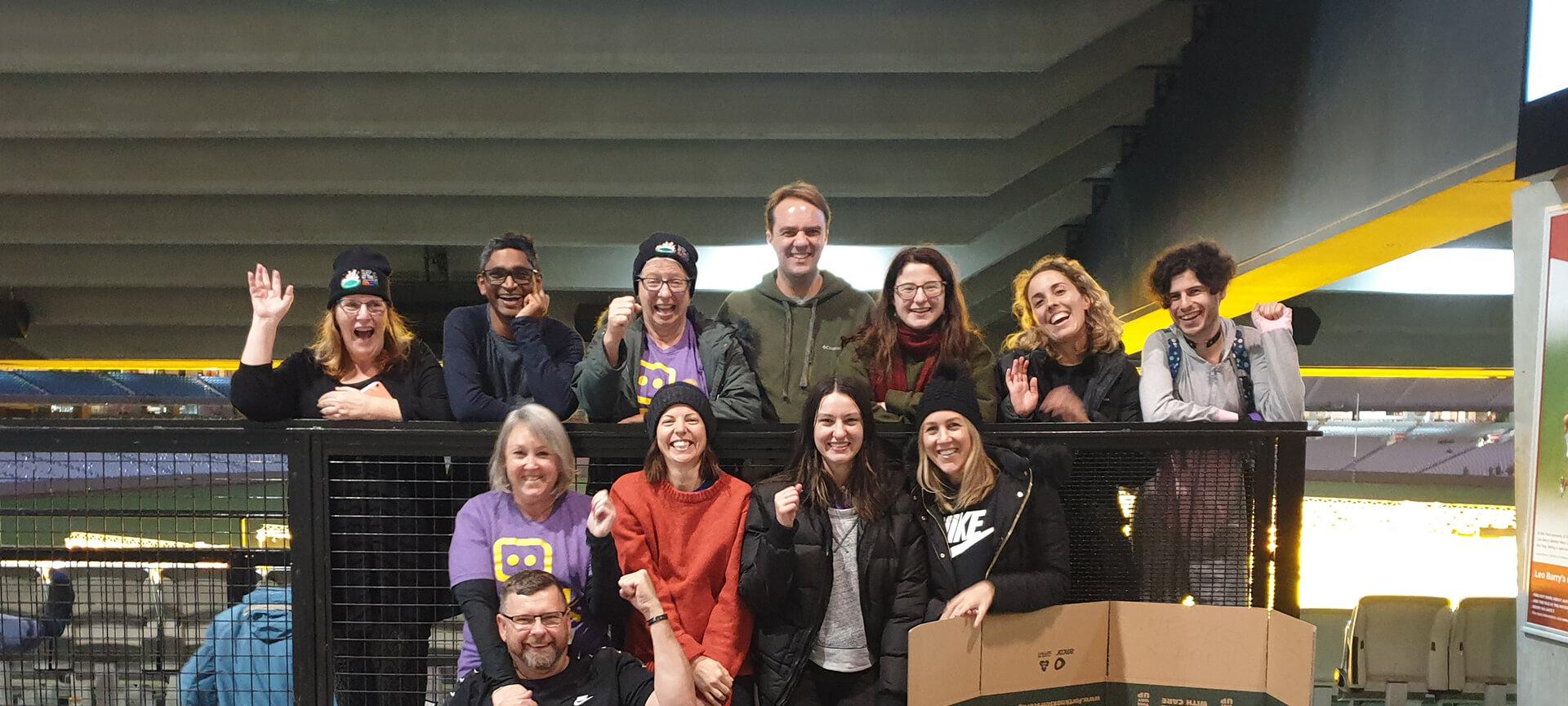 Sleeping at the 'G to help end youth homelessness
Last week a team of Infoxchange staff braved the cold to Sleep At The 'G, raising funds for Melbourne City Mission as they work to support the 6000 young people experiencing homelessness every night in Melbourne. One of our team members, Stephanie Livingstone, shares her thoughts on the experience.
When I arrived at the MCG for Sleep At The 'G, I wasn't in a great mood. I waddled in, awkwardly balancing all of my sleeping gear and entire backpack of "just in case" warm clothes with no idea where I was going.
I eventually found our Infoxchange team, who warmly welcomed me and guided me to the sleeping spot they'd set aside. I dumped my gear on the cardboard box I'd been given to sleep on, and we began to make our way to the activities that were happening as part of the event.
As I walked away, I looked back at my precious sleeping gear and asked my colleague if our bags would be OK left unattended. He told me to take my wallet but that everything else would be fine.
I suddenly recalled a recent conversation I'd had with a man experiencing homelessness. He'd told to me how he often couldn't even go to the toilet because his stuff had already been stolen twice.
It was set to reach 7 degrees overnight – what would it have felt like if later I'd returned and found that my stuff had been stolen? I didn't want to think about it.
As we sat around the dinner table later, my mood had improved. I work with great people and our team quickly had me laughing and chatting.
Stephanie Livingstone (far right) and other members of the Infoxchange team at Sleep at the 'G
Soon after, we attended a moving panel discussion led by young people at risk of or with lived experience of homelessness. An audience member asked one of the panellists what we should do when we see a person on the street who is homeless. The room was deeply moved by the young person's response.
"Just say hi, have a chat. People who are homeless feel like they don't exist … but we have a brain, and a heart. We don't just want money; we want someone to talk to us."
Another young person on the panel immediately shot their hand up in response to this.
"I absolutely agree with that – do you know how much I'd like to just share a meal and conversation with someone?"
It was a heartbreaking glimpse into the reality of homelessness.
In the morning I was woken up at 5:00am by blinding MCG lights, having had around three hours of sleep. I felt pretty fragile. I was exhausted, disoriented and my back ached. But as I looked out of my sleeping bag, my smiling colleague greeted me instantly.
"Morning! How'd you sleep? Wanna get some breakfast?"
What would it have felt like if I woke up and the people around me completely ignored me? Or if there was no one there at all?
It wasn't the food, activities or even the free coffee that made sleeping at the MCG bearable when I wasn't feeling great. It was a series of small but impactful moments when others made an effort to connect with me. Everyone wants to be seen.
Walking away from the MCG later this morning, I reflected on the deep importance of acknowledging our friends on the street. We can all help people experiencing homelessness feel less alone, just by saying "Hi".
Donate to the Infoxchange Sleep At The 'G team here