Recognition double-header for Infoxchange
Last week was an exciting one for Infoxchange as we received two honours recognising our work towards technology for social justice.
The first was a Victorian Disability Sector Award where our Test IT team were Finalists in the Business and Community Supporting Disability Award.
The Victorian Disability Sector Awards are a partnership between National Disability Services (NDS) and the Victorian Department of Human Services.  They recognise the achievements and contribution made by individuals, businesses and organisations to the lives of people with a disability. 
Our TestIT team was recognised for making a significant contribution to improving disability employment outcomes by leveraging the unique talents of people with Asperger's Syndrome to provide software testing services.  Team members Sarah St Leger, Alex Thomas, James Dutton, Kat Maher and Paul O'Brien were specifically named in the awards.
Our second achievement came at the iAwards where our work with AIHW on the Specialist Homelessness Information Platform (SHIP) was recognised as the state winner in the community category.
The iAwards is a partnership between the Australian Computer Society (ACS), Australian Information Industry Association (AIIA) and the Pearcey Foundation.  The iAwards honours organisations at the cutting edge of technology innovation and the achievements of home-grown Australian innovators.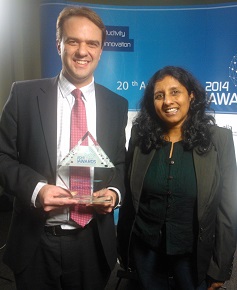 Infoxchange was recognised for improving the efficiency and effectiveness of 1200 housing and homelessness service providers across Australia – enabling these organisations to better support some of the most vulnerable people in our community while providing government with a clearer picture of homelessness in Australia.
Our award was presented by Gordon Rich-Phillips, the Victorian Minister for Technology, and is a great tribute to the team. It is also an acknowledgement of the strong partnership that we have with the Australian Institute of Health and Welfare (AIHW) in delivering the solution and providing reporting for the specialist homelessness services data collection.
A big congratulations to everyone involved for their hard work in making these achievements possible.