Website to help homeless wins Google grant
Thank you to everyone who voted for us in the Google Impact Challenge. We won!
We are thrilled that the Google Impact Challenge grant will allow us to help people who are homeless around Australia. 
Yesterday our CEO David Spriggs joined the 10 not-for-profit finalists who also pitched their inspiring projects to a panel of judges including Glenn McGrath, Anne Geddes, Kim Williams and Google Directors Maile Carnegie and Jacquelline Fuller.
The four not-for-profits organisations to receive $500 000 in funding and support from Google are:
"We are incredibly excited to be able to develop, right here in Melbourne, this world-first website that will help homeless people right around Australia," David Spriggs, Infoxchange CEO, says.
"Think about how much you rely on your own mobile and then imagine how important that phone becomes to stay in touch with friends and family if you're moving from place to place. That phone becomes a lifeline."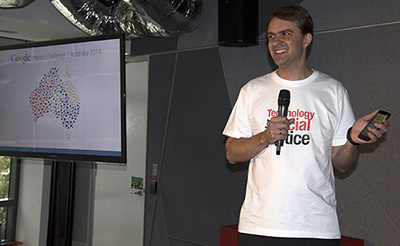 David Sprigs presents at the Google Impact Challenge
Google was so impressed by the quality of all the finalists' projects that they decided to award the other six finalists $250 000 each. The project ideas that came out of the sector showed truly transformative and innovative uses of technology.
Connecting people in need to vital information is at the core of what Infoxchange does. Thank you to Google and congratulations to the all the finalists.
Find out more about our website for people who are homeless