#BalanceforBetter in tech
Celebrating our staff on International Women's Day
Each year on International Women's Day we like to celebrate the contributions of the many talented women we have working here at Infoxchange. This year we'd like to introduce you to Sam Wijesinha, Digital Product Manager for Ask Izzy.
The theme for IWD2019 is #BalanceforBetter – the idea that by bettering the gender balance, we can better the world.
It's pretty widely acknowledged that the gender balance in the tech world needs improvement – women account for only 28 percent of the tech workforce in Australia, and there's a pay gap of 20 percent between men and women.
At Infoxchange we're all about equality, and that includes having a good gender balance in the workplace – so we're pretty chuffed that a little over half of our staff are women.
One of the newest additions to our team is Sam Wijesinha, the Digital Product Manager for Ask Izzy. Before joining Infoxchange, Sam says one of the most challenging things she dealt with in her career was working in a male-dominated industry. Being the only woman in a team, it was difficult to ensure she had an equal voice amongst her peers.
Sam also feels that better balance is key to achieving better outcomes for clients.
"Our teams should reflect the diversity of our audience. Without that, we're in danger of having a group of people who aren't able to understand the perspectives of others," she says.
And diversity isn't just about more women in tech either.
"We need a diversity of cultures, age, sexuality, ethnicity and people of all abilities to truly innovate and have diversity of ideas," says Sam.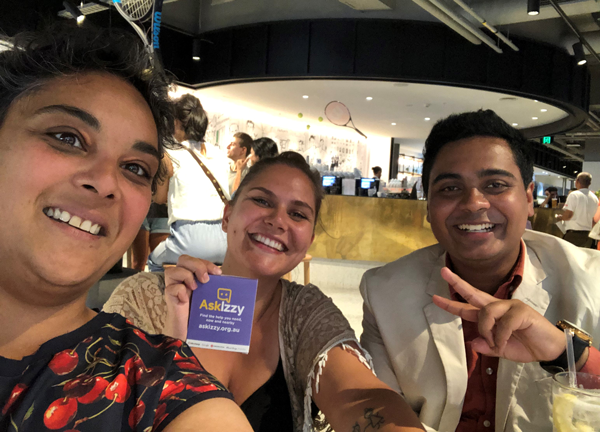 Sam with Ask Izzy team member Helena and homelessness advocate Elvis Martin.
Sam joined Infoxchange late last year after searching for a role that aligned her love of tech with her passion for driving social change.
"I think we have a great responsibility to meet the needs of the people using Ask Izzy and make sure we provide them with the right help through targeted services."
Sam says that using technology to help vulnerable people requires two key things: understanding how they connect with technology, and building a solution together. She says this is the best way of fully understanding all the challenges they are facing, while also identifying the opportunities where technology can help.
The Ask Izzy Help at Hand Project, for instance, is a great example of the way we build solutions with our end-users.
With help from the NAB Foundation, the project has involved a two-year-long co-design process with people with lived experience of family violence to make Ask Izzy safer and easier for those users. We're proud to be launching these enhancements later this month.
There are other exciting improvements being made, too.
Sam's newest project is the Ask Izzy voice assistant, funded by the Telstra Foundation, which is scheduled to have its beta launch later this year.
"It's the single biggest change to Ask Izzy since it was launched in 2016. It's pretty exciting!" says Sam.
So, any advice for girls who are thinking about a career in tech?
"There is a great community out there so get involved and explore career paths and opportunities. Go to meet ups and get involved in groups like Node Girls, Code like a Girl and Girl Geek Academy. Attend free events through General Assembly or Academy Xi," says Sam.
"It can be daunting to take a leap into the unknown, but the cliché is true: you'll never know if you don't try!"
Stay up to date by subscribing to our Ask Izzy newsletter