When life takes an unexpected turn, Ask Izzy can help: Nellie's story
Nellie Jackson had some big plans for 2020. As a member of the Melbourne band Loose Tooth, she was excited to record a new album and go on the band's next overseas tour – not to mention playing all the usual gigs around town with bandmates Etta and Luc.
But when the COVID-19 pandemic hit, all Loose Tooth's grand plans were suddenly put on hold. Not only did COVID-19 cause a huge financial hit to the band, but Nellie also felt she'd lost an important part of who she was. 
"I love being on stage, I love live performance," Nellie says.
"So not having that is almost like me losing a bit of my identity. It's a side of me that I don't get to do a lot, so to lose it is really sad to be honest."
To top things off, Nellie had also just started a new team leader role in her job as a youth drug and alcohol counsellor, bringing extra responsibilities to her already demanding but rewarding work. Without her usual creative outlets, she found herself struggling to manage her mental health.
"Music is such a private, personal thing that it's kind of a therapy for me. So I've had to learn new ways to cope with the stress of life and my job," Nellie says.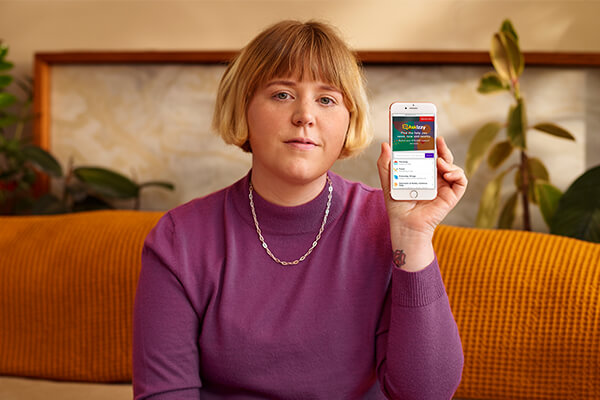 Nellie says the Ask Izzy website is a great place to start when you need help but don't know where to turn. Photo: Danny Cohen.
And she's not the only musician to be finding things hard at the moment. Research from Griffith University found Australia's musicians have been are among the hardest hit by COVID-19 because they are largely self-employed and rely heavily on live performance for income.
Nellie says she knows many people in the music industry who are really struggling, but who might not feel like it's OK to admit it.
"There is a global pandemic happening and I think lots of people feel like they're not allowed to feel really down about their music career when people are dying out there.
"But it is relevant. Everything is relevant to every person's life. People are in a really bad spot. Lots of people I know are really not doing well."
As a spokesperson for Ask Izzy's new "Unexpected Turn" campaign, Nellie says the main message she wants out there is that there's no shame in seeking help, no matter what your situation is and especially with everything that has happened this year.
"There's absolutely no reason why someone should be suffering alone when there is help out there," she says.
"I think that slowly the stigma on asking for help is going, but I think there are some people who still feel like it's weak to ask for help or they think 'no, I don't need that. That's not for me'.
"But help is for everybody. You just never know when you're going to need it and you never know what it might be."
She says Ask Izzy is an incredibly valuable tool for people in her position who didn't expect to be struggling this year, and don't know how or where to turn for help.
"I know for some people, accessing support is really overwhelming and really scary. If you don't know what's out there, you don't even know where to start.
"With Ask Izzy you can just type in where you are and there you go, it's all at your fingertips. Having that information is a powerful first step."
And for anyone who might still think they're just not the type of person to reach out to support services for help, Nellie has a clear message.
"It's not as big a deal as you think. It's not going to unlock some madness in your mind where you're going to go down a spiral and you're going to have to take pills and you're going to be locked up.
"Sometimes it's just a chat and that's all we need."
---
Find out more about Loose Tooth