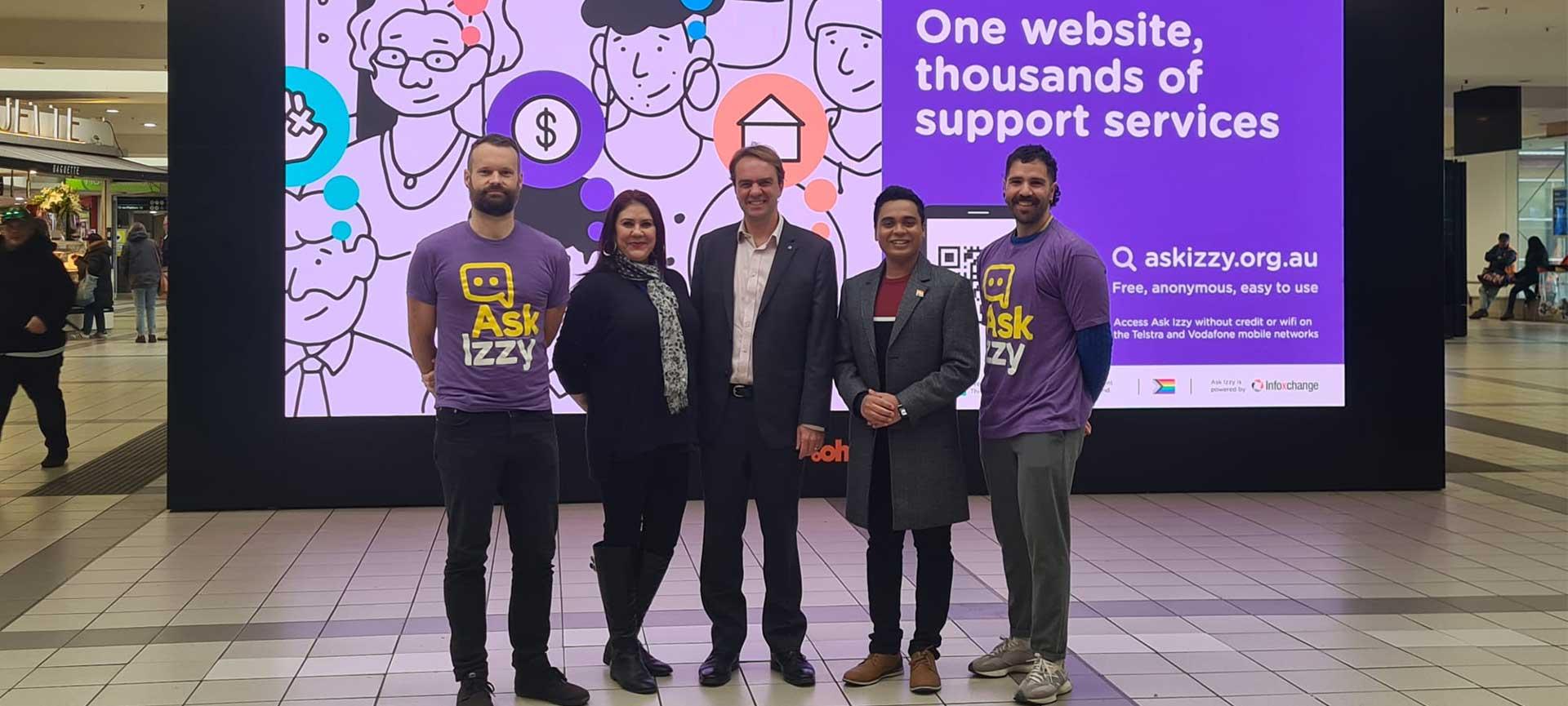 MEDIA RELEASE: oOh!media and Infoxchange launch partnership to raise awareness of Ask Izzy
oOh!media and Infoxchange have today announced a community partnership to help drive awareness of Ask Izzy - a website that supports vulnerable members of the community.
Ask Izzy connects people across Australia with a meal, financial assistance, mental health counselling, shelter, family violence support and more. During the pandemic, Ask Izzy has seen a significant increase in demand, recording over 2.3 million searches for assistance in the last year alone.
The campaign will initially focus on the Melbourne CBD and surrounds, utilising oOh!'s premium digital and classic Out of Home assets at public transport and retail locations including bus shelters, railway stations, tram stops and shopping centres, promoting the important connections Ask Izzy provides to critical community support services.
As part of a long-term partnership, oOh! will work with Infoxchange to develop an innovative dynamic trigger for its digital network, to provide real-time alerts and information for those in need, such as where to find support when a major weather event is predicted. The campaign is expected to be launched nationwide on oOh!'s more than 35,000 locations across Australia.
Infoxchange Group CEO David Spriggs says that as Australia continues to experience rapidly increasing cost of living pressures it is more important than ever to reach people in need and help connect them with support services.
"Raising the profile of Ask Izzy and what we can offer people experiencing hardship is critical in ensuring community members can access the assistance they need when they need it most," Spriggs said.
"The timing of this partnership is incredibly important as we see record levels of service demand from across the community. Searches on the Ask Izzy platform for services relating to food, financial assistance, housing, mental health and family violence support remain significantly higher than in previous years and are continuing to increase." 
"As we enter what is set to be a very harsh winter people need to know where they can turn to for help."
oOh!media CEO Cathy O'Connor added, "Ask Izzy connects vulnerable Australians with vital support when they need it most and oOh! is delighted to be partnering with Infoxchange to drive awareness of this very important service for those in need across our key locations."
"oOh!'s purpose is Making Public Spaces Better and as Australia's largest Out of Home media company we work with all stakeholders including, governments, councils and not-for- profits, to use our extensive network of assets for the benefit of all citizens. We are at the start of our partnership with Ask Izzy and are excited about the opportunities to develop innovative new ways to engage with those in need."
Ask Izzy has been developed by social enterprise Infoxchange as a whole-of-community partnership with founding partners Google, realestate.com.au, News Corp Australia and a wide range of supporting partners from across the public and private sectors. 
People with lived experience of homelessness, family violence and service providers are at the heart of the development of Ask Izzy.
The Ask Izzy team will continue to be guided by the voices of the communities it serves as they further expand the platform and are looking forward to reaching more of those in need through the partnership with oOh!media.
You can visit the Ask Izzy website at www.askizzy.org.au.
For all media enquiries please contact:
Bronwyn Miller, Senior Media and Communications Advisor, Ph: 0438 092 371 Email: [email protected].