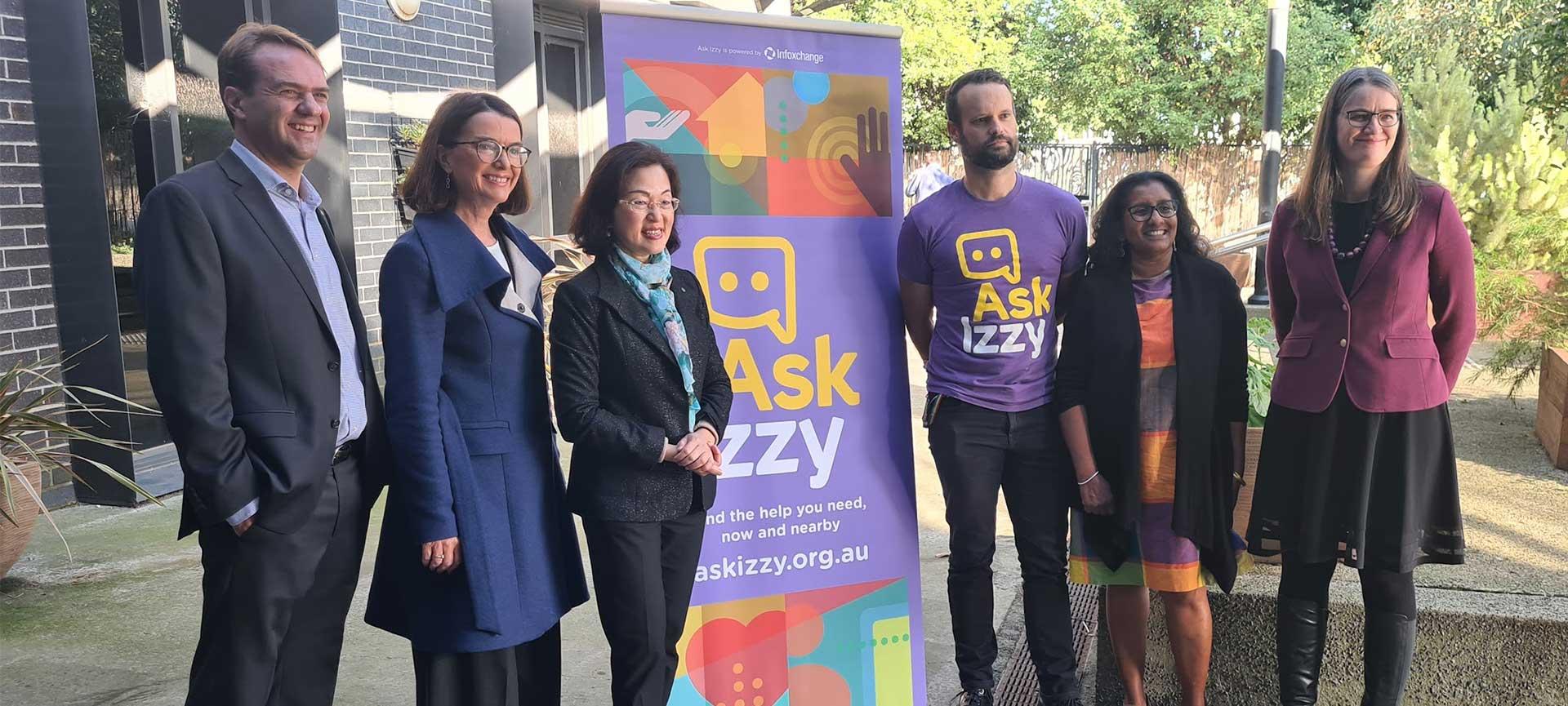 MEDIA RELEASE - Funding boost for Ask Izzy ensures ongoing access to support services
Infoxchange welcomes the Australian Government's announcement of an additional $4.5 million in funding for Ask Izzy over the next five years. 
Ask Izzy is our website that connects people in need with a range of support services including housing, a meal, financial assistance, family violence support and counselling.
Infoxchange CEO David Spriggs says that the funding will allow Ask Izzy to continue expanding its capabilities over the next five years, ensuring vulnerable community members have support pathways available to them.
"Ask Izzy has responded to over 2.3 million requests for help in the last year alone. This additional funding will enable our team and the organisations we work with to continue connecting vulnerable community members with housing, material aid, family violence support, mental health services, financial assistance and many other forms of support," David says.
Minister for Families and Social Services Anne Ruston made the funding announcement at the Launch Housing Youth Foyer situated at Holmesglen TAFE in Glen Waverley on Friday morning. 
Minister Ruston says the investment would ensure victim-survivors of family, domestic and sexual violence continued to have easy and safe online access to supports such as housing and counselling.
"The Morrison Government is committed to supporting Australians as we recover from the pandemic and this investment will help to directly connect people with a range of important services such as counsellors, charities and emergency relief providers," Minister Ruston says.
"It's important people know that help is available and Ask Izzy is able to assist individuals and families facing violence, stress or financial hardship," she says.
Ask Izzy was developed by not-for-profit social enterprise Infoxchange in partnership with Google, REA Group and News Corp Australia. In addition to these founding partners, Ask Izzy has received additional support from numerous other partners including Great Southern Bank, Lord Mayor's Charitable Foundation, National Australia Bank, Telstra, TPG and Vodafone.
News Corp Australia Community Ambassador Penny Fowler says that News Corp is delighted to see the Federal Government extend its support of Ask Izzy for another five years.
"Unfortunately the demand for Ask Izzy has only grown during Covid with so many Australians doing it tough. Ask Izzy is such an important resource to help people in need," Ms Fowler says.
Google.org Senior Director, APAC Annie Lewin says that Google is proud to have provided foundational support and grant funding for Ask Izzy via the Google.Org Impact Challenge, along with additional assistance to help them expand their services to meet new challenges including bushfires, floods and Covid-19.
"We are delighted the Australian government has recognised the critical help that Ask Izzy provides in connecting vulnerable Australians with essential local services," Ms Lewin says.
Ask Izzy has been designed and developed in consultation with people in the community with a lived experience in homelessness and family violence. The Ask Izzy team will continue to be guided by the voice of lived experience as they further expand the service.
With over 370,000 health and welfare services listed nationally, the funding commitment will also allow Infoxchange to provide data insights to government and the sector based on the anonymous usage data from Ask Izzy, ultimately leading to improved outcomes for those using the services.
You can visit the Ask Izzy website at www.askizzy.org.au.
For all media inquiries, please contact: 
Bronwyn Miller – Senior Media and Communications Advisor
Ph: 0438 092 371 Email: [email protected].
Infoxchange Group CEO David Spriggs is available for interviews and further comment upon request.