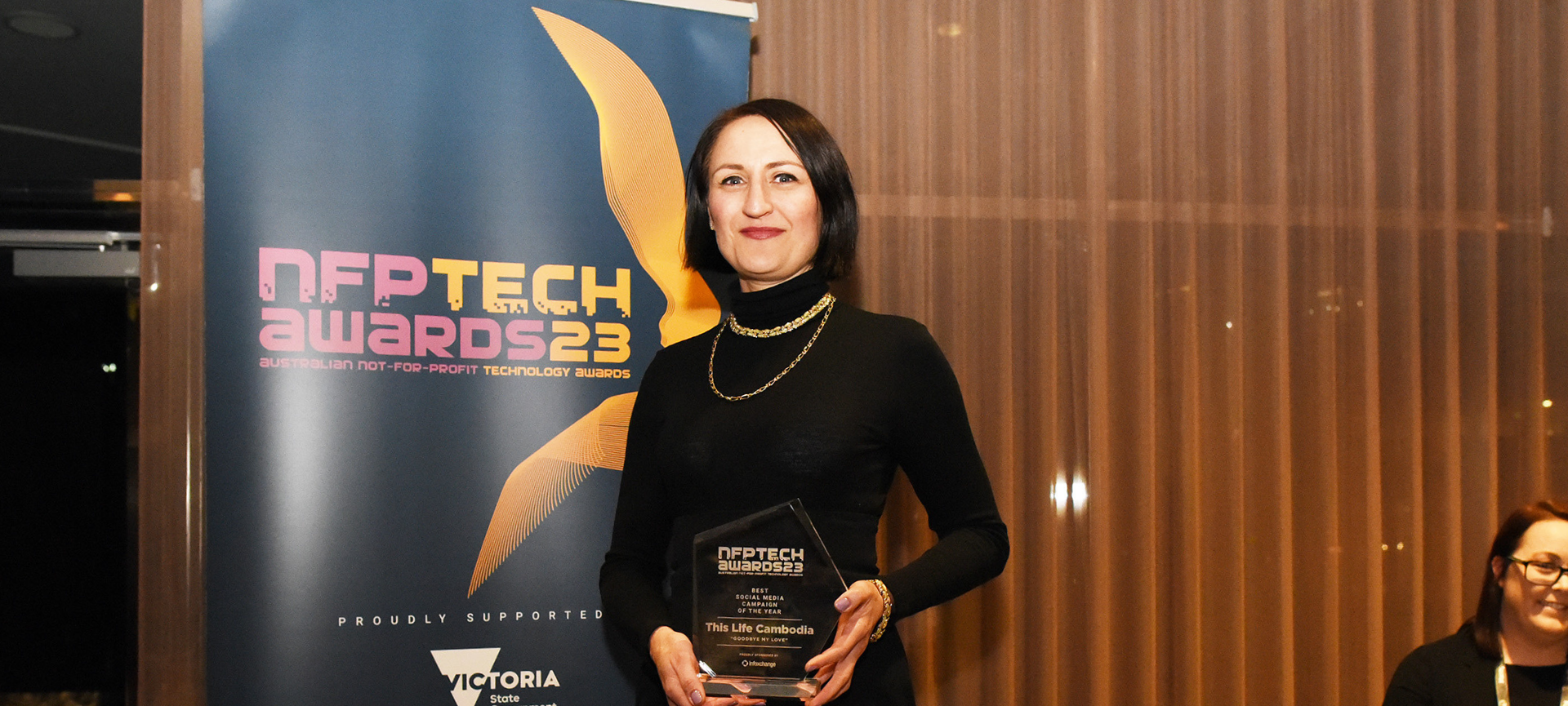 2023 NFP Tech Awards Winners Announced
Infoxchange is thrilled to announce the winners of the Australian Not-for-Profit Technology Awards, which were presented at a sell-out gala dinner in Melbourne on Thursday evening. The full list of winners is below.
The awards recognise the best in technology innovation and service excellence in the not-for-profit sector across Australia.
This year over 50 nominations were received across eight categories.
The judging panel included Dr Catherine Brown OAM, CEO, Lord Mayor's Charitable Foundation; David Crosbie, CEO, Community Council for Australia; Brenz Saunders, Aboriginal tech executive and Infoxchange Board member; and Annie Lewin, Senior Director of Global Advocacy and Head of Asia Pacific, Google.org.
Infoxchange CEO David Spriggs, who also sat on the judging panel, said that the calibre of nominations was of an extremely high standard.
"The 2023 award winners should be very proud of their achievements given the high calibre of nominations and the innovative work the sector is doing to support communities across Australia," David said.
The 'Not-for-Profit Technology Innovator of the Year' award was once again the most hotly contested category, followed closely by the inaugural 'Best Use of Data for Community Impact' award, which was won by Mission Australia.
The winners are as follows:
1. BEST ACCIDENTAL IT PERSON
Claire Sowden, Resilient Lismore
2. BEST SOCIAL MEDIA CAMPAIGN OF THE YEAR
This Life Cambodia "Goodbye My Love"
3. BEST TECHNOLOGY ACHIEVEMENT BY A FIRST NATIONS PERSON OR GROUP (sponsored by CSnet)
 Jajoo Warrngara: The Culture Classroom
4. TECHNOLOGY VOLUNTEER OF THE YEAR (sponsored by Australian Ethical)
Matt Segal, Anika Legal
5. BEST USE OF DATA FOR COMMUNITY IMPACT (sponsored by the Victorian Government)
Mission Australia
6. TECHNOLOGY FOR COMMUNITY IMPACT - BEST PRIVATE SECTOR
UTS Rapido Social Impact
7. NOT-FOR-PROFIT TECHNOLOGY INNOVATOR OF THE YEAR
ReachOut PeerChat
8. NOT-FOR-PROFIT TECHNOLOGY LIFETIME SERVICE AWARD
Peter van Dijk, The Lord Howe Island Museum
About the Australian Not-for-Profit Technology Awards
The Australian Not-for-Profit Technology Awards are a national technology awards program run annually by Infoxchange.
The awards recognise the best in technology innovation and excellence by organisations and individuals supporting the Australian not-for-profit sector.
Judged by a panel spanning the not-for-profit, for-purpose and private sectors, they acknowledge the accomplishments of these organisations and individuals and the improved product and/or service offerings brought to the not-for-profit sector and broader community through technology.