Infoxchange wins national and international awards
We have had a bumper week here at Infoxchange, winning a national and international award for two of our major digital inclusion projects.
Ask Izzy, our mobile website that allows people who are homeless or at risk to search more than 350 000 services nation-wide, has received the national iAward for community services. 
Run by the Australian Information Industry Association, the iAwards recognise leading technology innovation that is having a positive impact in the community.
Receiving a merit at the Victorian iAwards, we competed against other merit recipients and award winners from across the country to take out the national award. With over 200 000 searches since January and a gold at the Design100 Melbourne Design Awards, Ask Izzy was a strong contender.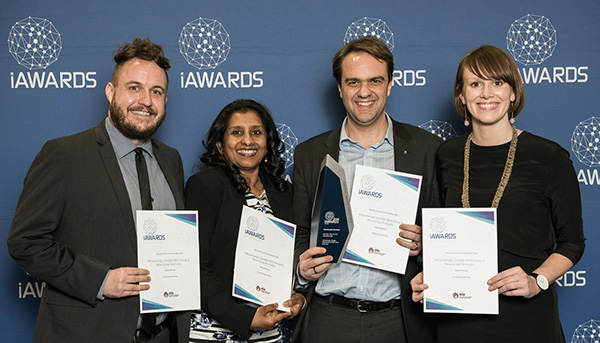 Dan Salmon, Amodha Ratnayeke, David Spriggs and Liz Greenbank at the iAwards.
Go Digi wins at the ANZIAs
Go Digi, our national digital literacy program was celebrated at the Australia and New Zealand Internet Awards (ANZIAs), taking out the Diversity and Digital Skills category.
Joined by our partners Australia Post, the Go Digi team accepted the award that recognises initiatives that help people get online and improve their digital skills.
Go Digi has reached over 80 000 people online through almost 1000 face-to-face events as part of the National Year of Digital Inclusion. Our 350 network partners across the country have been crucial in reaching people in regional and metropolitan areas.
Learn more about the National Year of Digital Inclusion and Ask Izzy.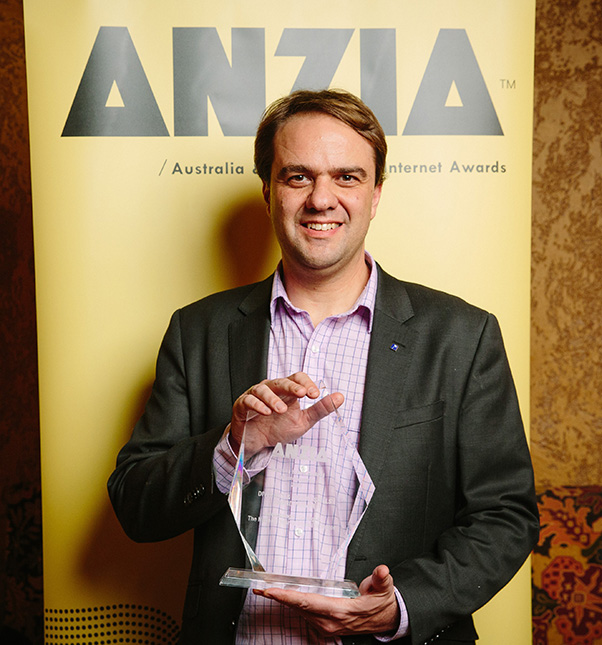 Our CEO, David Spriggs with the ANZIA. Image credit: Kit Haselden Photography.

The Infoxchange and Australia Post team on stage accepting the ANZIA. 
Image credit: Kit Haselden Photography.
See David at the awards ceremony in this ANZIA video.