Ask Izzy open data platform to uncover homeless need
Please note the Ask Izzy Open Data Platform has been retired. If you are interested in accessing our search directory data, please get in touch.
---
A new open data platform will help track the support services that people who are homeless or at risk are searching for and where, to better match services with need.
The Ask Izzy open data platform today received a $500 000 funding boost from Google Australia to support the project and ensure service providers and policymakers have the information they need to tailor services to specific locations.
The project will draw data from Ask Izzy, the mobile website that connects people who are homeless or at risk with over 350 000 services nation-wide, from crisis accommodation to food services and counselling. There have been more than 200 000 searches for support so far on the free and anonymous website, which was launched by Prime Minister Malcolm Turnbull in January.
"The Ask Izzy open data platform has the potential to help transform the way services are provided for people who are homeless or in need in Australia," Director of Google.org, Jacquelline Fuller, said.
Infoxchange was a winner in the Google Impact Challenge in 2014 and worked with partners Google, realestate.com.au and News Corp Australia to subsequently develop Ask Izzy.
Infoxchange CEO, David Spriggs, says the platform is a world-first that will uncover service gaps by overlaying demand and supply data from various trusted sources, including Ask Izzy and existing government and open datasets.
"The Ask Izzy open data platform goes beyond just data, it will provide actionable insights for policymakers and service providers," David says.
"With a detailed view of supply and demand across the country, we can begin to make systemic changes that will hopefully result in better outcomes for vulnerable people in our community.
"Through data-driven innovation we can identify trends in the need for housing, food, health and counselling support and ultimately tailor selection of support services by location.
"Research from the Australian Housing and Urban Research Institute* shows that there is a mismatch between the supply and demand of services, but we've never had the right tool to address this. Ask Izzy is that tool."
Infoxchange will work with policymakers and service providers in a collaborative co-design process, beginning early next year. The Ask Izzy open data platform will be launched in 2017 and will be publicly available.
Ask Izzy was developed by Infoxchange in partnership with Google, realestate.com.au and News Corp Australia. It was co-designed with people with lived experience of homelessness, and the frontline workers who support them.
*The Spatial dynamics of homelessness in Australia Report 2001-2011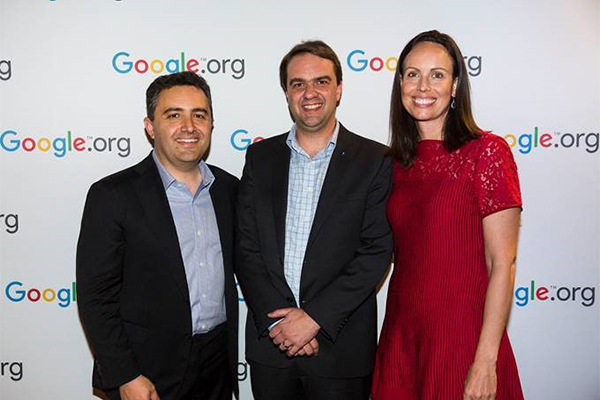 David Spriggs, CEO of Infoxchange (centre) with Jason Pellegrino, Managing Director of Google Australia and Jacquelline Fuller, Director of Google.org.