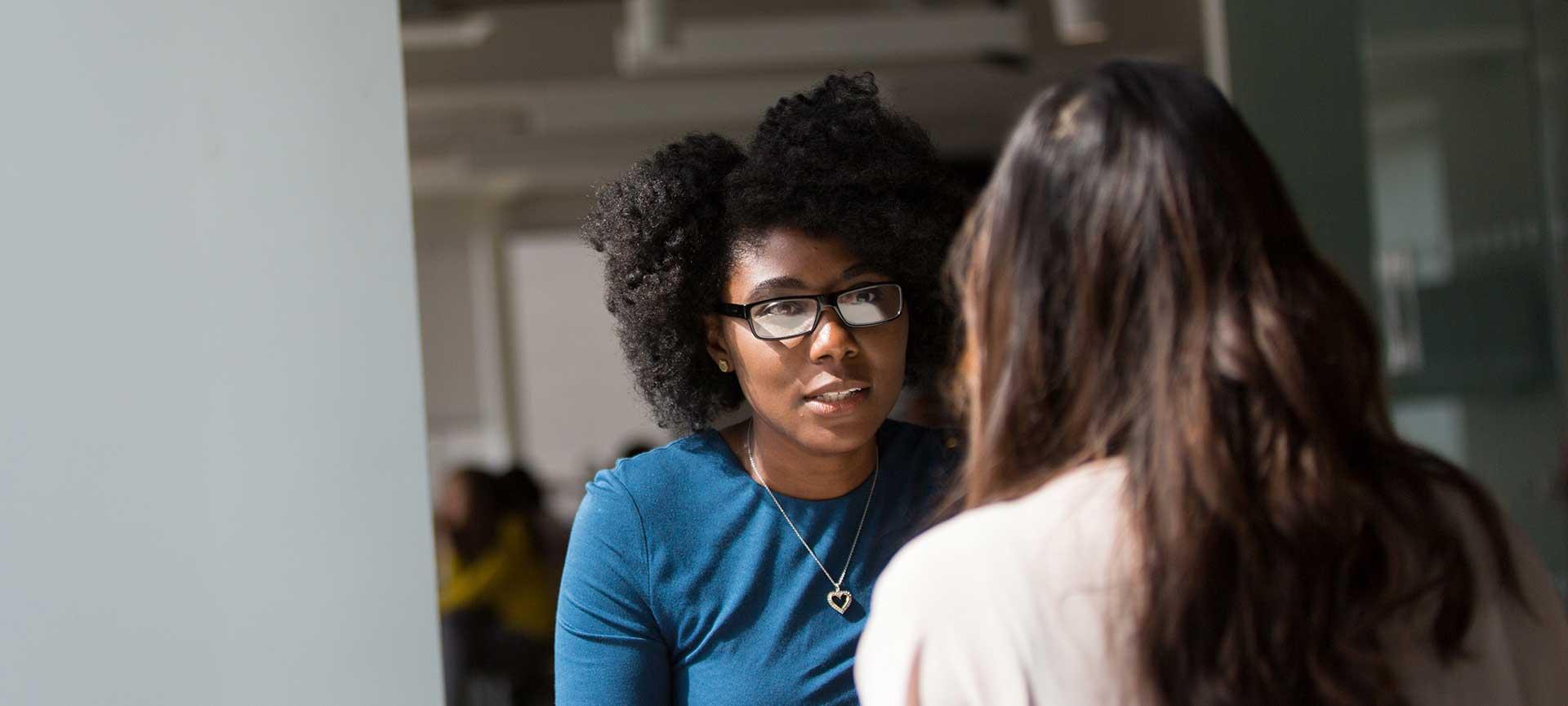 Supporting workers on the frontline of family violence with Ask Izzy Plus
With help from the Vodafone Foundation, we've spent the last year exploring ways to enhance Ask Izzy to better support frontline staff who help people experiencing family and domestic violence (FDV).
We originally developed Ask Izzy to help connect people experiencing or at risk of homelessness with nearby support services such as housing, a meal, money help and more. But we've seen increasing demand from everyday people who are struggling to make ends meet. And now there's another important Ask Izzy audience emerging: service and information providers who are seeking services on behalf of others, particularly people experiencing FDV.
The latest FDV statistics are alarming. In Australia, one in six women have experienced physical or sexual violence by a partner. On average, one woman is killed by a partner every nine days. FDV is also a leading cause of homelessness and a major contributor to disability and illness.
Earlier this year we introduced a number of enhancements to make Ask Izzy safer and easier to use for people experiencing FDV.
With support from the Vodafone Foundation, we've also been working on the "Ask Izzy Plus" project. The project aims to better meet the needs of frontline workers in the FDV sector as well as organisations such as banks and telcos whose staff come into contact with customers experiencing FDV.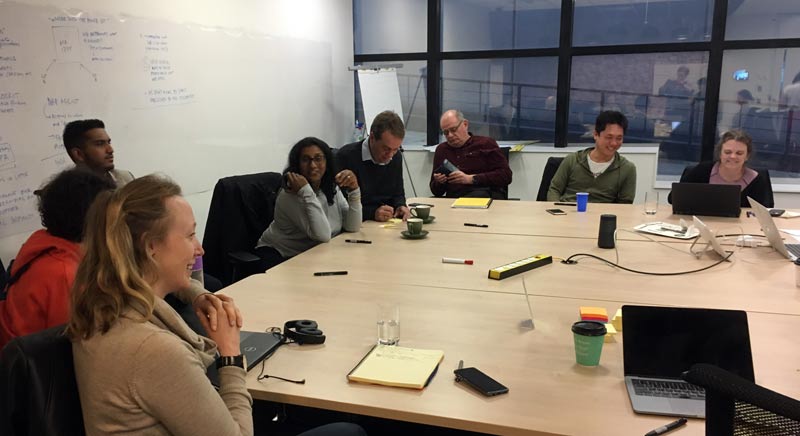 Ask Izzy Plus design sprint workshop with participants from Infoxchange, Vodafone, NAB Assist and Telstra
What we did
The Ask Izzy team conducted 14 interviews and two workshops over a four-month period in order to understand the complete end-to-end journey that people experiencing FDV take to get help.
We engaged three key user groups: help seekers (people experiencing FDV), service providers (services specialising in providing direct support to FDV help seekers) and information providers (services that assess and refer help seekers rather than providing direct support services).
What we found out
Here are some of the key findings from our research:
People experiencing FDV may not identify as being in an FDV situation and only reach out when they reach crisis point.
Many help seekers initially present with other issues such as financial or housing problems. We found that people seeking help need more guided support to better understand their situation and be directed to the most appropriate services.
One participant said, "I hadn't identified what was happening, and my paramount concern was … I was scared. I wasn't using the word safe or unsafe to myself, but on some level I knew that I needed to protect my child."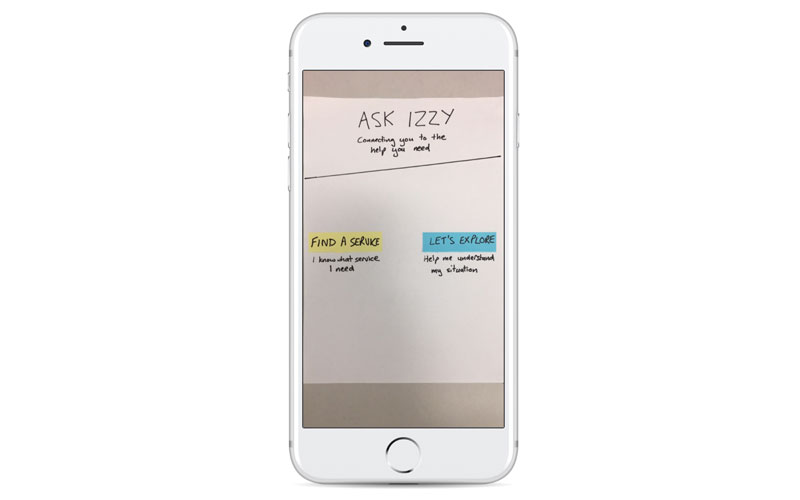 Prototype of an alternative home screen for Ask Izzy - based on the outcomes of the Ask Izzy Plus design sprint
Help seekers have to repeat their stories over and over again on their journey to help.
Help seekers contact many different services when navigating their situation, including hotlines and services they are ineligible for. They need to repeat their story every time they contact a new service, which can cause significant distress.
Supporting help seekers can be challenging for service providers and information providers too.
Service providers are expected to provide help seekers with holistic support and referrals for what can be a range of complex issues.
Information providers are sometimes restricted by company policy when it comes to providing help seekers with support for issues that seem symptomatic of FDV (e.g. they have no money, or a smashed phone).
One information provider told us, "… remembering we are a retail team … you can't help but feel your hands are somewhat tied with what you can do or can offer."
Information providers also feel ill-equipped to deal with traumatised customers:
"… you seem out of your depth supporting a lot of those things as it's hard to relate sometimes, and then it's hard to also know what the best support to actually offer when we have to consider the privacy of our customers as well."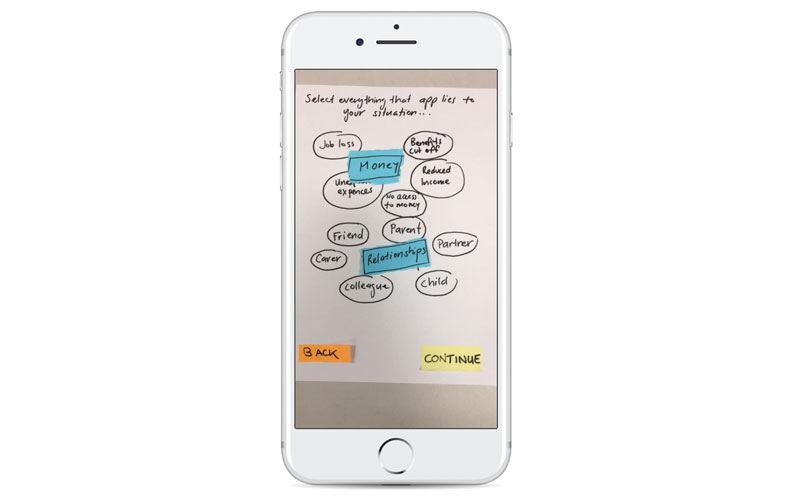 Prototype of an alternative user journey in Ask Izzy - based on the outcomes of the Ask Izzy Plus design sprint


 
What next?
Using insights from our research, we've identified several opportunities to enhance Ask Izzy to better assist service and information providers, including:
A guided decision tree to identify a help seeker's situation and their needs.
The ability to share Ask Izzy service results with help seekers via text message.
The ability for information providers to pass on help seekers' information (with their consent) to the service provider for assessment/triaging.
Thank you to the Vodafone Foundation and the dedicated professionals we interviewed as a part of our research.
We're thrilled to announce additional funding from the Vodafone Foundation to facilitate co-design and further explore these opportunities during 2020.
To keep up-to-date about this project and all things Ask Izzy, sign up to our monthly newsletter.