Ask Izzy connecting bushfire victims with support services across Australia
Infoxchange and Connecting Up are deeply saddened by the catastrophic bushfire events currently affecting Australia, and our hearts go out to everyone who has been impacted by these awful events.
Through Ask Izzy, our website that lists over 370,000 support services across Australia, we can connect people with help in this desperate time of need.
We are making updates to the website to ensure those seeking bushfire support are getting the most accurate and up-to-date information. This includes a new bushfire support category that contains links and phone numbers for all state-based relief services across Australia.
Ask Izzy is also data free on the Telstra mobile network. This means people don't need to rely on having credit or access to free wifi in order to use the site.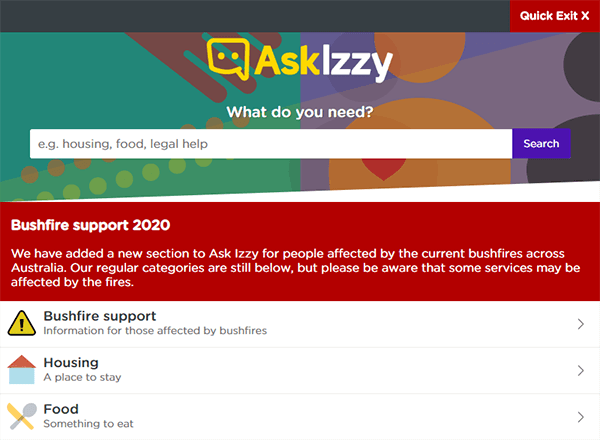 Due to the widespread bushfires, some services listed may not be operating or offering a more limited range of services. Our dedicated database team is doing their best to update these service listings, but we also ask for service providers, volunteers or members of the public to let us know about any service changes in their area via this form.
We would also like to extend our heartfelt gratitude to our partners including Google.org for providing support to help us respond to this national emergency.