Technology for social justice
We're always improving Ask Izzy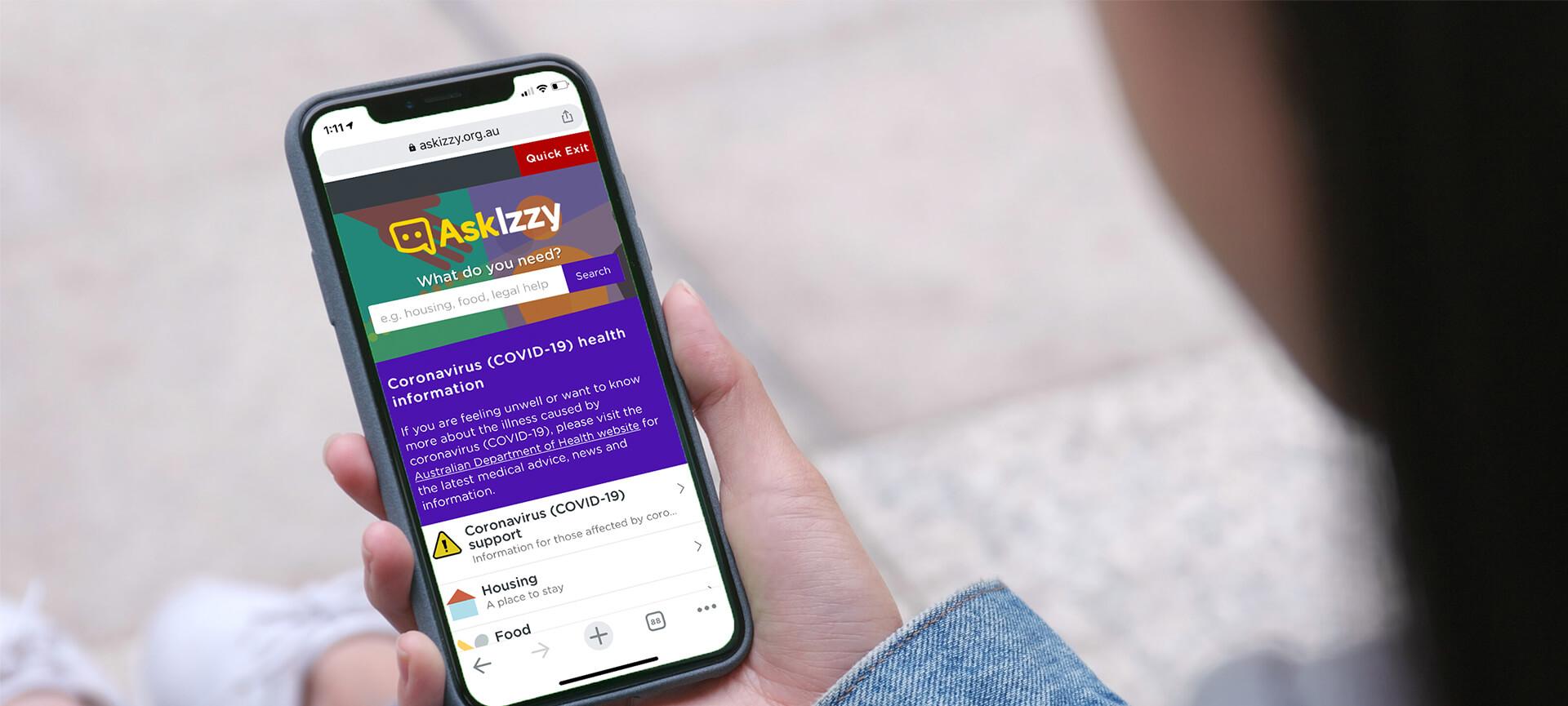 We're always improving Ask Izzy
Helping people affected by COVID-19
2020-2021
With help from the Federal Government, we're enhancing Ask Izzy to:
Help individuals and families who are facing stress, uncertainty and material deprivation as a result of the coronavirus pandemic to connect to support services sooner
Provide faster, more efficient ways of updating service information in times of crisis
Share data insights from Ask Izzy searches to help the community and government better respond to community needs
Supporting workers on the front line of family violence
2019-2020
Supported by Vodafone, the Ask Izzy Plus project is exploring ways to enhance Ask Izzy to better support frontline workers. Read more.
Better connecting young people to the support they need
2019-2020
Supported by the Telstra Foundation's Tech4Good challenge, we're developing Ask Izzy to provide a more personalised and supportive way to connect young people at risk of or experiencing homelessness to services. Read more about what we're working on.
Providing safer family violence support
2019
Our data shows that people leaving family and domestic violence are one of the biggest users of Ask Izzy. So with help from the NAB Foundation, we made Ask Izzy safer and easier to use for people experiencing family violence. Read more about the enhancements we made.
If you or someone you know is experiencing family or domestic violence, or are confused or concerned about your relationships, you can call 1800RESPECT 24 hours a day, 7 days a week.
Aboriginal communities project
2017
With help from the Victorian Government, Ask Izzy has been redesigned to ensure Aboriginal and Torres Strait Islander people feel welcome and included when they are seeking support. Read our media release No shame when you Ask Izzy for more info.
Want to know more?
For media enquiries or to find out more about Ask Izzy, contact us.